3-Day Start-Up event continues to develop the next generation of entrepreneurs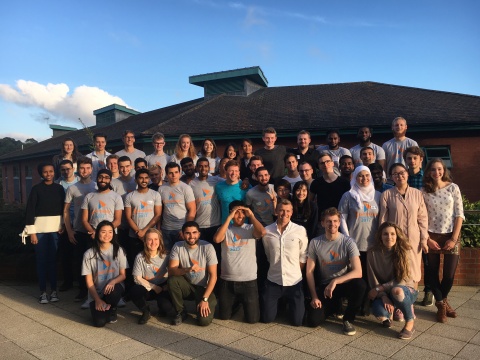 Students from across the five SETsquared Universities came together from 13th to 15th October for a 3-Day Start-Up (3DS) event, organised by the University of Exeter Innovation Centre team.
From over 250 applications, 50 promising undergrad and postgrad entrepreneurs were chosen to take part in an intensive 50-hour weekend enterprise programme.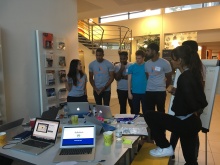 The original concept was developed by the University of Texas and is now run as a not for profit enterprise, with events taking place across the globe.
Each of the 50 entrepreneurs that took part came along armed with a business idea. These were all pitched and the students chose the top seven strongest ideas to form teams around. One of the key benefits of this approach is that each team was cross-disciplinary and cross university – so everybody benefitted from new expertise and ideas.
Once the concepts have been chosen, the programme takes the students through workshops on the lean canvass, customer discover whereby they go out into the city centre and ask for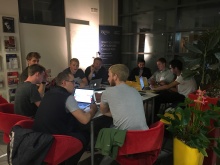 feedback on their business ideas, business model development with mentoring and then a final pitch session on the Sunday afternoon with feedback from judges.
Siobain Hone, chair of the SETsquared student enterprise practice group, says: "We love the 3DS approach as it's so collaborative. There's no overall winner, the aim is to bring all the students up to the same excellent pitching standard. It's amazing to see the huge transformation and improvement the students go through from the Friday to Sunday. Speaking to potential customers directly is a particularly powerful exercise, as they normally only seek feedback from their peers."
Here's an overview of the seven business ideas that were worked on:
| | |
| --- | --- |
| MyMedicine | An app to help people remember to take their medicine. It raises awareness of what's in pharmaceuticals and is particularly useful for those caring for elderly relatives to ensure they have taken their medication. |
| Take Note | An app which records and transcribes meetings. |
| Klenk | An app which enables people to connect across all social media platforms they are on by simply putting their phones together. |
| Luris | A website to help Personal Injury Claim solicitors find customers. |
| DiabeteIt | An app to help those diagnosed with Diabetes to help monitor blood sugar, track diet and nutrition. |
| Fill Me Up | A sharing scheme that enables water bottles to refilled and recycled. |
| VR Interior Design | Software that uses virtual reality to design buildings and homes. |
Jordan Harry, University of Bath student who attended the event said: "The main positive outcomes of the 3-Day Start-Up event for me was that I learnt to become comfortable being uncomfortable. Letting others take control of the business idea we were working on, left me feeling out of control. However, I found that my team had strengths where I had weaknesses and doubling down on my strengths (pitching, sales and business) meant the team complimented one another. Whether you're a history, sports or business student I would 100% recommend the 3DS. You'll learn why it's important to work in a team when building a business, the importance of failing fast and why being an entrepreneur isn't the end result. It's the process."
Mailing List sign-up
Get all the fresh insights first! Stay up-to-date with all the
latest investment news, blogs and all things SETsquared.
Sign-up
Close