Apple hosts high-tech start-ups from Exeter, Bristol and Southampton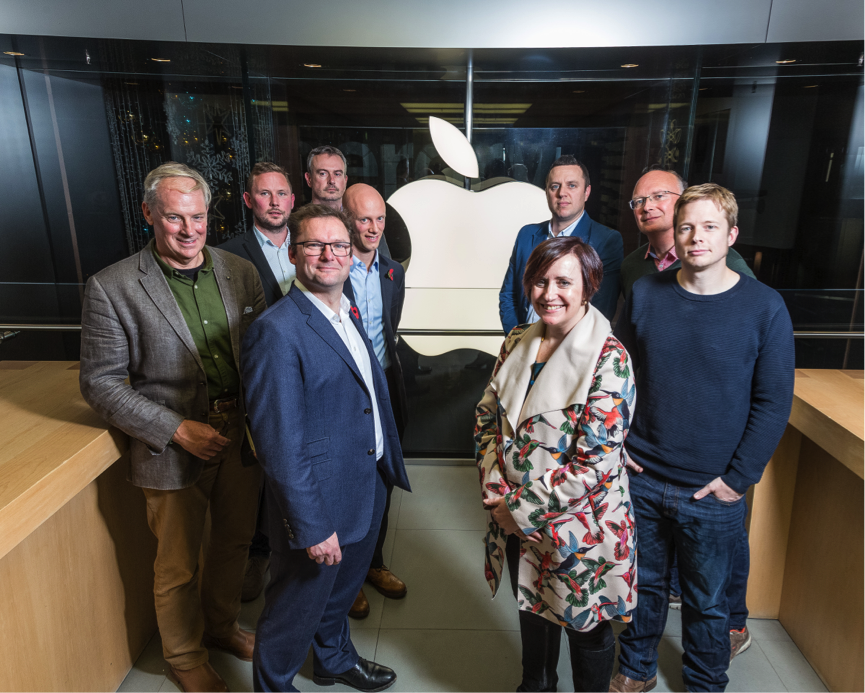 SETsquared staff and entrepreneurs in Apple at Princesshay
Apple has been helping leading university business incubator, SETsquared, to showcase some of the most promising upcoming tech start-ups from Exeter, Bristol and Southampton.
SETsquared, the enterprise partnership between the universities of Bath, Bristol, Exeter, Southampton and Surrey, brought five of its most disruptive and cutting-edge technology start-ups to Apple Princesshay in Exeter yesterday (9 November) to pitch to a select audience of investors and mentors.
The pitching event saw start-ups who are developing technologies for industries ranging from oil and gas, to logistics, and helping adults with learning disabilities, delivering five-minute presentations. The audience and Apple staff provided feedback and guidance to the entrepreneurs, helping them on the road to investment success.
The businesses who pitched in Basingstoke are:
Custodian Solutions (Exeter) – which has created a globally award-winning cloud platform to collaboratively combat counterfeiting
Dynamon Ltd (Southampton) – which is bringing actionable intelligence to the road transport industry that will reduce emissions and increase business margins
Dashboard Ltd (Exeter) – which has created a solution for the oil and gas industry that uses continuous real-time monitoring and harnesses innovations in electronics manufacturing, communications and enterprise cloud technologies
eCow Developments Ltd (Exeter) – which is developing Milkalyser, a system of measuring milk progesterone during the milking of cows, that will revolutionise dairy cow fertility management
Inclusive Media Solutions Ltd (Bristol) – which has created EasyVideo, a platform that enables adults with learning disabilities to scan household items with any smart device to play a video of how to use it
The sessions will help prepare the start-ups as they get ready to pitch to more than 150 investors at this year's Accelerating Growth Investment Showcase, to be held in Central London by SETsquared next month.
Simon Bond, Innovation Director at SETsquared, said: "We're delighted that Apple is hosting these exclusive pitching sessions.
I know that our entrepreneurs will benefits from the advice and insights that will be shared by the Apple team and invited investor audience at each event. It is great to see the start-up eco-system in the South of England working together like this to help create great new companies in the UK."
During the session, event sponsors Office Pantry and Frobishers supplied refreshments. Office Pantry is a SETsquared company based in Bristol that provides offices with healthy snacks, fruit and coffee, while Exeter-based Frobishers creates a wide range of fruit juices, soft drinks and smoothies.
Mailing List sign-up
Get all the fresh insights first! Stay up-to-date with all the
latest investment news, blogs and all things SETsquared.
Sign-up
Close