Apple hosts high-tech start-ups from Surrey and Southampton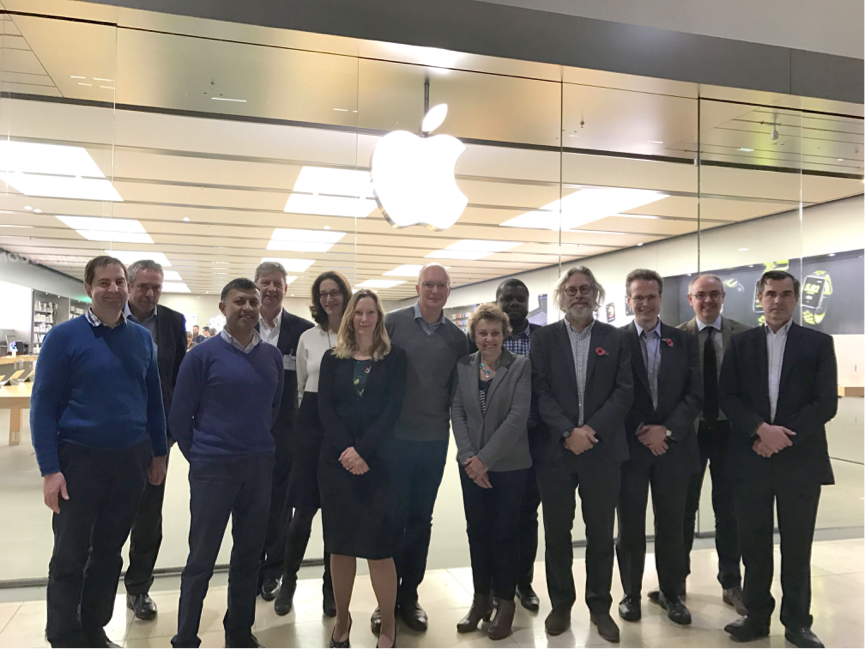 SETsquared staff and entrepreneurs outside Apple at Festival Place
Apple has been helping leading university business incubator, SETsquared, to showcase some of the most promising upcoming tech start-ups from Surrey and Southampton.
SETsquared, the enterprise partnership between the universities of Bath, Bristol, Exeter, Southampton and Surrey, brought seven of its most disruptive and cutting-edge technology start-ups to Apple Festival Place in Basingstoke yesterday (7 November) to pitch to a select audience of investors and mentors.
The pitching event saw start-ups who are developing technologies for industries ranging from transport to medical imaging, to biological research, delivering five-minute presentations. The audience and Apple staff provided feedback and guidance to the entrepreneurs, helping them on the road to investment success.
The businesses who pitched in Basingstoke are:
AccurIC Ltd (Surrey) – which has created LED drivers to enable ultra deep dimming, ultra low flicker and high-power factor for all line AC powered LED lights from 8W to 200W
Red Skies Technology (Surrey) – which is helping to improve use of public transport in developing countries with its GPS-controlled transport payment system, called YoSafari
Express Diagnostic Imaging Ltd (Surrey) – which has created digital tools that provide a multi-modal, multi-site medical imaging service for the NHS, which saves time and money and improves the patient pathway
SAL Scientific Ltd (Southampton) – which provides cell biology research services and products designed to meet the challenges of the pharmaceutical industry with the rising cost of bringing new drugs to market
SEaB Eneergy (Southampton) – which has created localised small-scale waste-to-energy plants that convert organic waste into carbon-free heat and electricity, with water and nutrient-rich fertiliser as by-products
Fresh Relevance Ltd (Southampton) – which has developed a marketing hub for online retailers that increases sales through personalised customer experiences and real-time marketing tactics
Utonomy Ltd (Southampton) – which has developed innovative technology to reduce the leakage of the harmful greenhouse gas methane from distribution networks
The sessions will help prepare the start-ups as they get ready to pitch to more than 150 investors at this year's Accelerating Growth Investment Showcase, to be held in Central London by SETsquared next month.
Simon Bond, Innovation Director at SETsquared, said: "We're delighted that Apple is hosting these exclusive pitching sessions.
I know that our entrepreneurs will benefits from the advice and insights that will be shared by the Apple team and invited investor audience at each event. It is great to see the start-up eco-system in the South of England working together like this to help create great new companies in the UK."
During the session, event sponsors Office Pantry and Frobishers supplied refreshments. Office Pantry is a SETsquared company based in Bristol that provides offices with healthy snacks, fruit and coffee, while Exeter-based Frobishers creates a wide range of fruit juices, soft drinks and smoothies.
Mailing List sign-up
Get all the fresh insights first! Stay up-to-date with all the
latest investment news, blogs and all things SETsquared.
Sign-up
Close