Bardowl wins global innovation award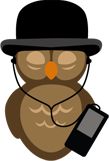 Congratulations to Bardowl who last week won the CEO Summit Award for Innovation this week at the Meffys awards.
The Meffy's are coveted global awards for mobile content and commerce, and are the industry's official benchmark for measuring success and rewarding innovation.
Now in their 9th year, entries from over 35 countries were represented at the awards ceremony, and were judged by expert panels of independent journalists, analysts, academics and VCs.
The CEO Summit Award for Innovation is a new award category, and recognises the most innovative products, services and initiatives in mobile content and commerce over the past year.
Participants pitched their businesses to 200 assembled leaders from leading mobile entertainment and commerce organisations around the world. The CEOs then voted for the best company to win the award.
CEO Chris Book received the global accolade for his startup Bardowl, which is rapidly reinventing the audiobook. Bardowl subscribers pay just £9.99 a month for unlimited immediate access to a diverse audiobook catalogue, and favourite books are cached for those awkward moments when there is no internet signal.
Chris said: "Our objective with Bardowl was to get more people listening to audiobook content – especially those who are time-poor and always on the go. Our business model really opens up the world of audiobooks to those who wouldn't have previously considered listening to books rather than reading them.
"Winning the Meffy award is a huge honour. Having our innovation recognised on the international stage by the MEF CEO summit is very exciting – and it means a lot that mobile CEOs get what we're doing.
Rimma Perelmuter, Executive Director, MEF commented: "The 2012 Meffys once again has marked an amazing year of mobile success and innovation from across the globe. The diversity and quality of this year's entrants also reflect the changing nature of the mobile content and commerce ecosystem with banks, brands, developers, publishers and exciting new start-ups taking centre stage alongside established mobile players. "
"I am really grateful to those who've helped get Bardowl to this point, we have a great team of people working on making the ultimate audiobook service a reality."
Chris received the award at a glistening event at The Park Lane Hotel in London attended by an international audience of top industry executives and press. 
Mailing List sign-up
Get all the fresh insights first! Stay up-to-date with all the
latest investment news, blogs and all things SETsquared.
Sign-up
Close