Bath Entrepreneurship Programme Launches with 2012 dates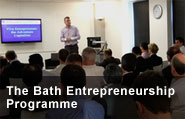 It takes ambition to be an entrepreneur and it takes courage to lead a start-up; but you need more than good business instincts to succeed against the odds. Before you make your move into Entrepreneurship you should optimise your chances of success and take one week to learn from the best, at the next Bath Entrepreneurship Programme.
The Bath Entrepreneurship Programme is an intensive, one-week, personal development experience, relevant for both new and experienced entrepreneurs who are preparing their start-up business idea.
For over 10 years, the Bath Entrepreneurship Programme has only been offered as a key part of the University of Bath's award-winning, world-class MBA. Now for the first time in 2012, the Programme is being made available outside of the MBA and is now accepting applications.
Combining practitioner sessions from expert entrepreneurs and investors, along with taught lectures and small-group workshops, the Bath Entrepreneurship Programme will challenge your business preconceptions and test your entrepreneurial resolve. However, the Programme will also equip you with the skills, contacts and confidence you need to optimise your chances of start-up success.
The one-week Bath Entrepreneurship Programme will help you turn your idea into an incisive, coherent and effective Business Plan and then present it to investors. The next Bath Entrepreneurship Programme dates are:
23 to 27 April 2012
18 to 22 June 2012
19 to 23 November 2012
The programme will take place at the University of Bath's Innovation Centre in Bath. 
Mailing List sign-up
Get all the fresh insights first! Stay up-to-date with all the
latest investment news, blogs and all things SETsquared.
Sign-up
Close