Bath tech pioneers pitch for investment at SETsquared's Accelerating Growth Investment Showcase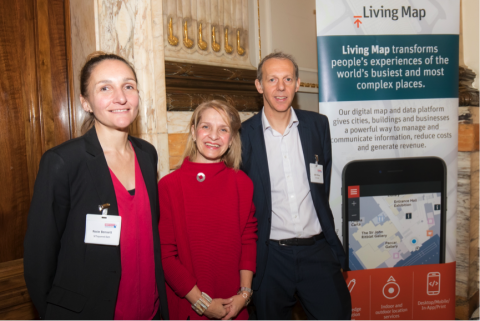 From left to right: Rosie Bennett, Centre Director SETsquared Bath, Wera Hobhouse, MP for Bath, Jake Ronay, Living Map
Innovative tech businesses from across Southern England, including Jook, Living Map and Ordoo from Bath, came together in London yesterday to pitch for £20m of investment to an audience of 150 investors at SETsquared's annual Accelerating Growth Investment Showcase.
Rosie Bennett, Centre Director at SETsquared in Bath said:
"I am hugely proud of the success that businesses involved with SETsquared achieve on their pathway to growth. This year we have seen some extraordinary companies come forward with fantastic investment propositions.
"The investor community that we work with has turned out in significant numbers. This is a testament to the faith that they have in quality of the deal flow presented at SETsquared events. In 2016 businesses we supported raised £166.7m and I am confident after today, 2017 will also be a bumper year for the companies we have been working with."
20 of the UK's most exciting start-ups and scale-ups were at the showcase vying for investments of between £200k and £3m from an audience of more than 150 investors and corporates on 5th December 2017. The businesses pitching at the event have developed technology in the sectors of advanced engineering, VR, retail, healthcare, robotics and cyber security.
Tom Dewhurst, Founder of Ordoo, an app to pre-order food and drink, said:
"SETsquared put a lot of effort into the event and I was impressed by the number of relevant investors that I met. We hope the hard work will pay off"
MP for Bath, Wera Hobhouse who attended the showcase said:
"The partnership between technology companies, universities and investors is a great way to grow the economy in the south. The companies based in Bath have a fantastic opportunity to be part of this exciting project".
The event is the 13th showcase for SETsquared, an enterprise partnership between the universities of Bath, Bristol, Exeter, Southampton and Surrey, and the world's number one university business incubator.
Over the last 15 years SETsquared has helped more than 1,500 businesses raise over £1.25bn in investment, as well as contributing over £3.8bn in GVA (Gross Value Added) to the UK economy with £8.6bn GVA estimated over the next decade – figures that contributed to it being named by UBI Global as the top university business incubator in the world.
Mailing List sign-up
Get all the fresh insights first! Stay up-to-date with all the
latest investment news, blogs and all things SETsquared.
Sign-up
Close