Bristol company helping to combat modern slavery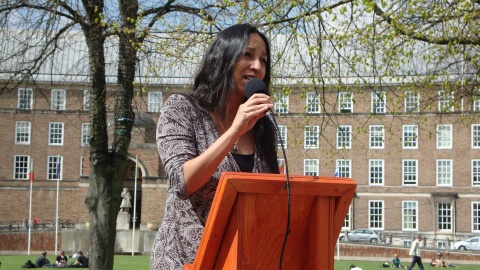 Jaya Chakrabarti MBE, CEO of Semantrica
Bristol SETsquared member Semantrica, is a social enterprise which has developed tiscreport.org the World's largest Open Data Registry committed to ending Modern Slavery.
The venture has just entered into a ground breaking partnership with the Welsh Government, which in its Code Of Practice on Ethical Employment in Supply Chains, will recommend that all public, private or third sector organisations receiving public funding, produce written statements outlining what they are doing to combat modern slavery. It also recommends that these reports are all logged on tiscreport.org
All Tiscreport.org data is completely open to search by any member of the public and registration is free to public sector and small organisations. Half of all proceeds made from larger commercial organisations goes directly to funding frontline anti-slavery work via charity partner Unseen. Unseen runs the UK anti-slavery helpline which gives frontline support to victims of modern trafficking and slavery. This means that the registry is completely self-funding, meaning that it requires no funds from charitable donations to operate and more importantly it will not require any infusion of public funds from the Government.
Cabinet Secretary for Finance and Local Government Mark Drakeford said: "I am very pleased to be launching our Ethical Code in Supply Chains at the Workforce Partnership Council today. This is a ground-breaking piece of work – and an excellent example of what working in social partnership across Wales can deliver. He added "I expect all public sector bodies in Wales, Welsh businesses and suppliers to the Welsh public sector to sign up to this code. It is only by working together that we can help deliver a better, and crucially, a fairer deal for workers in our supply chains in Wales and throughout the world."
Jaya Chakrabarti MBE, CEO of Semantrica says, "It's incredibly inspiring to be working with the Welsh Government team, knowing of their ambitions to make a real difference in ending exploitation within supply chains. We were invited to input into their Code of Practice from our tech perspective, and are really excited about bringing it to life through tiscreport. The Welsh Government team has been coming up with some really good ideas about what will make it easier for them as regional government administrators to check and encourage compliance. Once we've trialled this with Wales co-designing with us, we'll be able to offer it to other regional governments and states/provinces globally."
She added "We are very proud to have developed a sustainable model that can do so much good in combatting slavery without having to go 'cap in hand' to the taxpayer and without diverting funds from frontline work. For the UK, we now estimate that upwards of 20,000 companies will need to be covered by statements, and the final deadline for this first year of required compliance is October 2017. Our system will provide an accessible, open platform to help achieve this goal."
Tiscreport.org were recently invited to submit their headline data on business engagement with the Modern Slavery Act section 54 compliance requirements to the Human Rights Select Committee Select Committee, reports voluntarily to the Home Office and is working actively with both Local and Regional Governments to assist them with monitoring and encouraging compliance in their supply chains, developing an accessible dashboard so that staff can easily access and review by sector, geography and by local authority.
Mailing List sign-up
Get all the fresh insights first! Stay up-to-date with all the
latest investment news, blogs and all things SETsquared.
Sign-up
Close