Bristol enterprise leader named in UK's top 100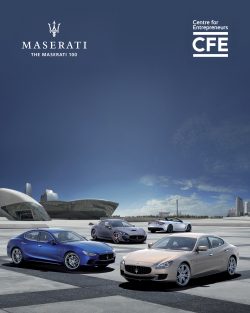 Bristol business leader Nick Sturge, who runs the University of Bristol's award-winning SETsquared business incubation centre, has been named in an elite list of Britain's most successful philanthropists, investors, mentors, advisors and ascending entrepreneurs.
Nick, who is also Director of Engine Shed and the South West regional chairman of the Institute of Directors, is recognised in the 2016 Maserati 100 List for his work as an advisor and mentor.
The list features a high calibre of diverse and vibrant British entrepreneurs, who not only help contribute to the growing UK economy, but also provide much needed support to tomorrow's business leaders.
Nick has been running the Bristol SETsquared Centre for more than 10 years, providing incubation support to ventures in the centre by building a large community of professional advisors who give their time for free in clinics, workshops and mentoring support.
This has resulted in over 200 companies being supported, who have raised more than £180 million in equity, grant and debt funding between them.
Nick said: "I'm honoured to be in included in this year's selection, among such great people across the country. I think we all have a responsibility to share our experiences with others – be they entrepreneurs, established business leaders or policy makers.
"Working with great colleagues in the SETsquared Partnership has given me a fantastic opportunity to share my experiences and to learn from others, including some of those also listed in the Maserati 100."
The final list was curated by a panel of experts from the Centre for Entrepreneurs (CFE).
Its founder, Luke Johnson, former Chairman of Channel 4 Television and Pizza Express, said: "Entrepreneurs have long been celebrated for their role as job creators – indeed UK entrepreneurs added 700,000 net new jobs in 2014/15 – but their deep commitment to helping others often goes unnoticed. The Maserati 100 exemplifies the economic and social value of entrepreneurs; growing the economy, creating jobs and helping the next generation do the same."
The Maserati 100 search was launched at the end of last year and invited members of the business community to nominate the individuals who they felt should be recognised for their support of the next generation of entrepreneurs.
Mailing List sign-up
Get all the fresh insights first! Stay up-to-date with all the
latest investment news, blogs and all things SETsquared.
Sign-up
Close