British-Chinese tech company wins University funding boost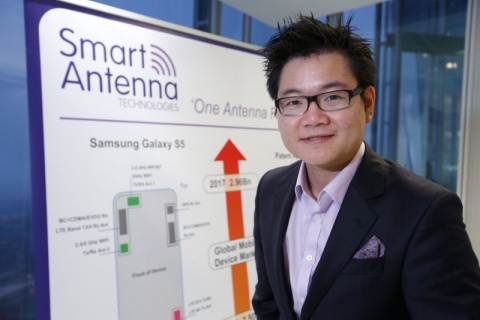 Smart Antenna Technologies' founder Dr Sampson Hu
Bath SETsquared member, Smart Antenna Technologies (SAT), has announced a £1m investment raise. The company will use the injection of capital to both expand the world-class team of engineers and explore other markets for the technology.
The investment comes from the University of Birmingham's Spinout Investment Reserve, a £5m fund set up to support commercial applications derived from the University's research. SAT is the first company to receive an investment from this fund.
SAT, which was founded in 2013 by Dr Sampson Hu, has developed a new generation of antenna for smart phones and laptops.
A typical smartphone has up to six antennas for GPS, Wi Fi, BlueTooth, 2G, 3G and 4G. Coupled with this, there are new radio standards such as 5G just around the corner.
Dr Hu, from Guangdong in China, has invented a new antenna system that replaces a smartphone's six separate antennas and combines them into one single antenna.
With more efficient antennas reducing power consumption from a smartphone's battery, SAT says a phone's battery life can be boosted by up to 10%.
The potential market for SAT's new antenna system in the smart phone device market is estimated to be around two billion units.
Dr Colin Tucker, Executive Chairman of SAT, has said: "The future is incredibly bright for SAT. We don't as yet see any limitations to the technology, and we see ways in which we can improve both the manufacturability, the cost of these devices, the performance of our antennas and – probably more importantly – it will allow customers to have much faster connections to the internet than they currently have."
Dr Hu, said: "This investment will enable Smart Antenna to increase the world class team of engineers who are joining the company. We are also expanding the uses of our technology into other areas such as the Internet of Things and in car antenna systems. We are at a very exciting stage of the company's development. This investment will enable the company to complete product development with a major industry partner."
Senetas Corporation, an Australian developer of certified high-assurance encryption hardware and Mercia Technologies, a VC firm based in Warwickshire have also announced they would be investing in SAT.
SAT is based in Edgbaston, Birmingham and has a separate office in Bath. The company has grown from three employees to around 20 in three years.
Mailing List sign-up
Get all the fresh insights first! Stay up-to-date with all the
latest investment news, blogs and all things SETsquared.
Sign-up
Close