British University & Colleges Sport to launch new competition management platform in partnership with Playwaze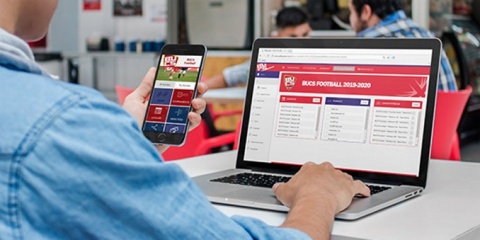 British Universities & Colleges Sport (BUCS) have signed a five-year partnership with sports technology provider, and SETsqaured Surrey member Playwaze, to deliver a comprehensive web and mobile competition management solution for intervarsity sport.
BUCS, who are the governing body for Higher Education Sport in the UK, run programmes for over 50 sports for some 170 member institutions. This comprehensive programme sees over 6,000 teams compete in 900 leagues, alongside 140 individual sports events each year.
After a detailed review of BUCS systems and its current competition management provision BUCScore, the decision was made to harness the technology of an existing sports management platform in Playwaze, rather than continuing to invest in BUCScore or building another bespoke system.
The decision to partner with Playwaze was based on their detailed understanding of BUCS's requirements, their technology being purpose-built for sport, the existence of an intuitive mobile app and the fact that BUCS's members can use the platform for their own delivery of non-BUCS sport.
Commenting on the partnership, Vince Mayne BUCS CEO said:
"BUCS are extremely excited to partner with Playwaze to enhance our provision of high level digital services for our members. Playwaze's market acceptance and track record proves they have the capability to meet our needs to run complex regional and national competitions and events.
"Their further vision and commitment to enhance the software to suit BUCS' unique structure, will ensure we provide an enhanced user experience for members and students."
Playwaze is a cloud-based sports technology platform that provides a purpose-built web and mobile app for effectively organising grassroots sport. This includes highly configurable, self-service features for organising activities and events, running competitions, managing teams, tracking player development, and integral mobile app communication and payments.
The platform is also harnessed by sports organisations like BUCS for the implementation of cost-effective, scalable web and mobile solutions. These can range from competition, activity management, and open data solutions, web and mobile activity finders, ranking and participation reward systems, goal-setting and player development trackers, and participation data capture, analytics and reporting, with safeguarding features built in for youth and disability sport.
Rupert Jenner, CEO of Playwaze has said:
"Playwaze is passionate about leveraging technology to simplify the way sport gets organised. We are delighted that our new partners, BUCS, share that goal and believe in Playwaze's ability to deliver real benefits to university sport in the UK. It is a fantastic opportunity for all parties to showcase the capabilities, efficiencies and benefits to all stakeholders and end users of delivering sport through a modern, functional and truly mobile solution."
BUCS and Playwaze have also joined forces with London Sport to deliver a competition management solution in the capital for London Youth Games (LYG). The new LYG solution will provide competition management for boroughs, schools, parents and children, making use of the platform's integral safeguarding features, and options for parental control of accounts.
The new BUCS Playwaze system will launch fully for the 2019 – 20 BUCS season, with some BUCS programmes being run on the system over the 2018 – 19 season by way of a pilot.
Mailing List sign-up
Get all the fresh insights first! Stay up-to-date with all the
latest investment news, blogs and all things SETsquared.
Sign-up
Close