Cascoda collaborates with Imagination Technologies
Southampton SETsquared member, Cascoda, has collaborated with Imagination Technologies to bring innovative low-power wireless connectivity to their Creator Ci40 IoT development board.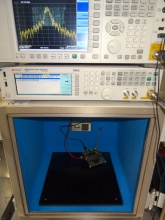 Imagination Technologies Ci40 Creator board, under test in the Cascoda RF LabImagination Technologies' Creator Ci40 product is an 'IoT in a box' development kit designed for small to medium enterprises or entrepreneurs who want to quickly prototype an IoT platform which can be easily turned into real product for volume production.
Cascoda is a fabless semiconductor company which specialises in wireless communications for the Internet of Things. Cascoda's technology is based on a completely new type of radio receiver which delivers much improved area coverage for no penalty in power consumption.
Bruno Johnson, CEO, Cascoda, said: "We are very pleased to bring our innovative radio technology to Imagination's Ci40 – the most complete IoT development kit in the market. Cascoda's technology helps overcome a key challenge of IoT systems by providing enhanced-range low-power connectivity. This is extremely important for devices that may need to run on battery power for weeks or months at a time. We believe that the Ci40 and the impressive ecosystem around it will help to overcome other challenges associated with developing world-class IoT platforms for prototyping and volume production alike."
Paul Evans, director of business operations, Imagination says: "We are delighted to work with an innovative young semiconductor company like Cascoda who offers a highly competitive solution with world-class technical support. The Creator Ci40 kit is the easiest way to build consumer and industrial IoT applications for health monitoring, home automation, agriculture, smart cities, security, safety-critical connected sensors, and just about anything else you can imagine."
Mailing List sign-up
Get all the fresh insights first! Stay up-to-date with all the
latest investment news, blogs and all things SETsquared.
Sign-up
Close