NanoSyrinx: The nano-precision drug delivery system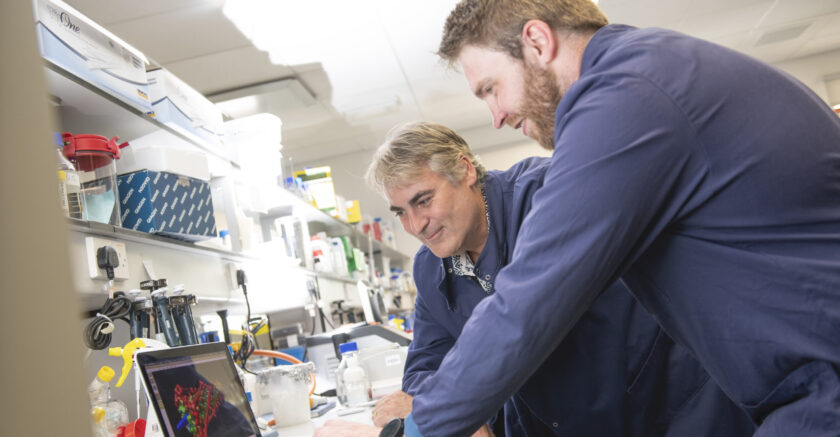 NanoSyrinx is an emerging biotechnology company based at the University of Warwick's Medical School. It uses synthetic biology approaches to develop a completely novel method for targeted drug delivery, direct to the interiors of cells. Using genetically-encoded "nanosyringes", NanoSyrinx is able to inject bioactive proteins and peptides through cell membranes for precision intracellular targeting. Using this technology, the company hopes to enable a new generation of therapeutic modailities and breathe new life in to existing ones.

FACT FILE
Start date: March 2020
Website: Visit website
Location: Warwick
Employees: 8
Innovation to Commercialisation of University Research (ICURe)
Funding: Grants: £230k; Equity: £400k, (Seed) with a further £6.2M ("Seed+") just closed
KEY MILESTONES
2019
Secured a £250k translational research grant for further technical validation
March 2020
Company formed
March 2020
£400k pre-seed convertible loan funding received
April 2020
£30k Midlands Innovation and Commercialisation of Research Accelerator (MICRA) grant received
June 2020
£200k Innovate UK grant received
July 2021
£6.2M oversubscribed Seed+ investment completed

"My PhD project at Warwick concerned these novel and unusual 'nanosyringe' molecular complexes, and engineering them as a way of being able to precisely administer proteins and peptides at the cellular level. Intracellular delivery remains a difficult challenge, despite a lot of research in the area, though mostly from the materials science and polymer space. About halfway through the project it became clear that what my supervisor and I were working on could really help solve a real-world problem. Without knowing where to start in terms of turning an idea into a business, we were guided by the university's tech transfer officer (TTO) and they helped us to think about commercialisation".
"Our TTO, Dr James Lapworth at Warwick Ventures, recommended ICURe to us in 2018 and we felt it was the natural next step to help us plan where to go next. The ICURe programme itself was really good – it was fantastic to have the opportunity to travel around the world to speak to a huge number of potential investors and partners. As a result, we were able to make a number of excellent connections. We travelled to Ireland, USA, Germany, Austria and around the UK, talking to people mainly in the big pharma space. Undoubtedly ICURe gave us the opportunity to be face-to-face with the right people much faster than we ever would have been able to 'going it alone'".
"We were probably unusual in coming into ICURe with one idea, and that idea actually not changing a great deal over the course of the programme. For us, our original idea turned out to be right on the money – which was reassuring to hear, but what we got out of ICURe was the crucial validation of that idea from the market itself. The feedback we received from the Options Roundabout was that we had clearly identified an unmet need in the market, but that the technology was too early to spin-out. This really gave me the confidence to know that we were pursuing something that had merit".
"Coming out of ICURe we knew that the space we were in was right, but we needed to have more technical validation to be fundable at that stage. It took another 18 months since then to get to a point of being spin-out ready and filing the IP but, because of the clear market pull and our understanding of what datasets were needed, we were able to secure a £250k translational research grant from the BBSRC Follow-on Fund to support this work".
"When we went through ICURe we didn't have a business advisor as part of our team, but in fact it was through ICURe that we met our now Chairman, Dr. Steve Taylor who has been instrumental in steering us through the commercialisation aspects of starting a company. I'm fortunate in that the transition from the lab into the 'real world' has been a fairly gradual and something I actually really enjoy, which is not always the case for some founders. This is, I'm sure, in large part down to the excellent support network around me that can pick up the bits that I miss or that I'm less good at".
"We have also been able to bring in additional expertise to the company through our three investor/directors, all of whom are sector-relevant. For example, Dr Arnaud Autret is the investment principle for M Ventures, which is the investment arm of a large German pharma biotech – Merck KGaA. Arnaud will input on our strategic direction so that we're aligned with the big pharmas. Similarly, Oliver Sexton is an observer on our board and is well known in industry so is able to shape how we develop as a company based on his wealth of experience. All of our investors have therefore got a lot to offer beyond just opening the purse strings. Recognising that we are an otherwise fairly inexperienced team, wherever possible, we want to continue to bring in investors that are knowledgeable and don't just have deep pockets".
"Looking ahead, we recently completed an oversubscribed "Seed+" fundraising at total of £6.2m, to fund the next couple of years which will be crucial for us to start scaling up and bring some compelling assets forward. This fundraise means I can now join the company 'properly' and we plan to expand the technical and leadership team to almost 10. We need to make sure that we have the data in place ready for the next funding round, which is planned to be a Series A round in two years' time, so this period for us is really make or break".
"ICURe has certainly stood us in good stead for where we are today, and I'd recommend that anyone with the opportunity to take part, does so. Even for companies in our position who think they have an idea that is right, it is still so valuable to validate it (and so much fun to do!). I would advise people considering it, first and foremost, to be open minded – you might have an idea about whether a conversation is going to be fruitful or not, but frequently it's the conversations you don't expect that turn out to be some of the most useful ones".

Dr Joseph Healey, CEO and Co-Founder
NanoSyrinx