ViridiCO2: Closing the carbon loop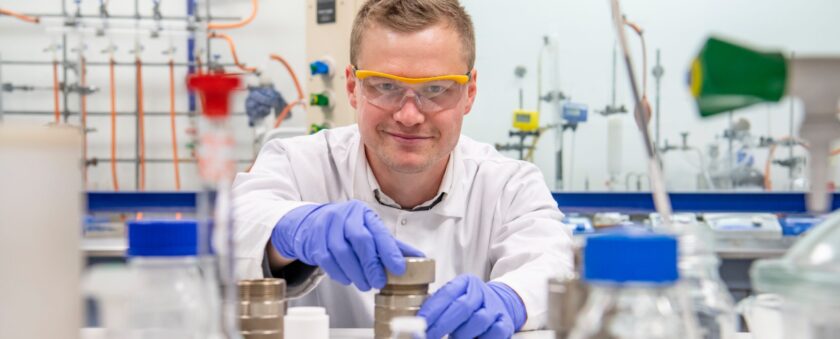 ViridiCO2 is setting out to revolutionise the sustainability of chemical manufacturing processes by deriving products from carbon dioxide (CO2) feedstocks to close the carbon loop. Its innovative technology is able to directly replace fossil fuels used in the chemical manufacturing process, with repurposed CO2. By using waste CO2 in this way, it not only reduces emissions and fossil fuel reliance, it also serves as a CO2 utilisation strategy, rather than just a storage solution.

FACT FILE
Start date: December 2020
Location: Southampton
Employees: 1
Innovation to Commercialisation of University Research (ICURe)
Funding: Grants: In submission
KEY MILESTONES
2016
Started research during PhD into CO2
2019
Patent application submitted
July 2020
Impact Acceleration funding received
October 2020
Won Royal Society of Chemistry Emerging Technology (Energy & Environment Category) Competition 2020
December 2020
Incorporated company
February 2021
Innovate UK grant submission

"During my PhD I focused on the design and manipulation of catalysts for chemical processes to make them more sustainable. Six months in, I found something that worked really well, so I spent the next three years developing it. Once it became clear this process had potential for commercial value, we applied for a patent in 2019. I knew I needed to create a company, but I really had no idea what I was doing."
"One of the programmes that was suggested to me was ICURe. I was thrilled to be accepted onto the programme, but I had no idea what to expect or how much we might gain from it. The reality far exceeded my expectation and it really gave me the time and opportunity to give the business my 100% focus. I'm not sure I would have had the time to do this without ICURe. You need to dedicate yourself to the programme, which can sometimes be overwhelming, but the rewards are invaluable. Everything we learnt on the programme has become the foundation for everything we're doing now."
"We went into ICURe not knowing who or what we were as a company – we were just researchers with some cool tech. We had no idea how to apply it. Coming out of ICURe we now have a full business model and the validation of a huge network of people who wanted our product. ICURe really gave us an understanding of what we could provide and how we would provide it."
"Through the market validation phase we found that our CO2 utilisation technology is desperately needed. Currently, a lot of processes for emission mitigation is through storage strategies, such as sequestration. In the UK, £168m has already been spent trying to tackle the problem of storage, despite it being a finite solution. As a result, it's widely recognised we need this kind of process to use the waste CO2 in some form. What we're doing with ViridiCO2 will not only save manufactures millions of pounds, it will also be a much more environmentally friendly solution. In today's world, green credentials count for a lot."
"Our target customers are chemical manufacturers. The chemical industry is one of the largest emitters of CO2 in the world. Our platform is poised to utilise waste CO2 that they generate and re-purpose it back into their own products, so it produces a circular economy. A secondary market is big CO2 emitters like cement and steel manufacturers. We hope to build relationships with those customers and hope one day to be able to take away their CO2 waste for free".
"It was a challenge taking part in ICURe during 2020 due to the lockdowns and everything moving online. But I came to realise that there was real opportunity there, to go further and speak to more people than I ever would have been able to in person. In total, I spoke to 97 connections across the world – there were days where I would do seven hour-long calls in a day, and dealing with different time zones was occasionally a challenge. But it gave us so much information and feedback that I can honestly say it was worth every minute."
"As a result, we've now identified our early adopter target UK market, and we have made connections in Europe, Hong Kong, India and America for phase two. I was also able to have meaningful conversations with all the biggest chemical manufacturers in the world – being able to say I was part of the ICURe programme definitely helped me get my foot in the door."
"The next step for us is to hopefully secure funding and then start working towards our first investment round. We will then need to grow the team and bring on board the expertise we need, with the short-term goal of having commercial contracts by 2023. Ultimately my goal is not about the money, it's about making a considerable contribution towards being Net Zero. I think we're on the right road – the future is green, after all".

Daniel Stewart, Co-founder
ViridiCO2