Ceryx Medical win BioDesign Award at the Launch: Great West Awards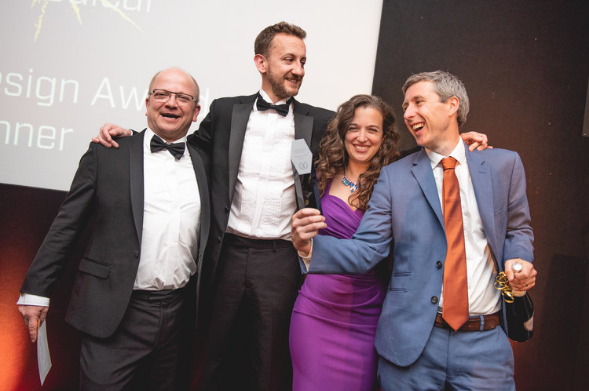 Ceryx Medical winners of the BioDesign Award. Prof. Imre Berger (University of Bristol), Dr Stuart Plant (Ceryx Medical), Dr Emily Grossman (host), Andrew Wilson (Ceryx Medical)
SETsquared Bath members, Ceryx Medical was awarded the BioDesign Award at the Launch: Great West Awards. The BioDesign Award recognises the fusion of engineering with biology to accelerate innovation and enable new impacts in life sciences and biotechnology.
Ceryx Medical is working to develop bioelectronics based on unique, patent protected, chip technology which is able to mimic nerve centres.  Founded in 2016, the company is the result of a collaboration between Professor Julian Paton (School of Physiology and Pharmacology, University of Bristol) and Dr Alain Nogaret (Department of Physics, University of Bath).  Using a biomimetic approach, Ceryx creates closed-loop systems which are able to communicate with the body seamlessly, and in real time, to control a range of autonomic or rhythmical processes such as peristalsis, heart rate and even walking. The innovation has the potential to transform the lives of people requiring an implant to restore heart rhythm, and it may prove effective at reversing cardiac dysfunction in heart failure.
The inaugural Launch: Great West Awards brought together over 250 members of the growing scientific start-up ecosystems across the South West in the Grand Mercure Hotel in Bristol last Thursday. The awards honoured the achievements of start-up and spin-out companies commercialising scientific research across all scientific disciplines in eight categories that recognise achievements from recently incorporated ventures to those companies that have secured noteworthy fund-raises and exits.
Rosie Bennett, SETsquared Bath Centre Manager says,
"SETsquared Bath was honoured to sponsor the Rocket Fuel Award which recognises ambitious growth by expansion of capability or accessing new national or international markets."
The winner of this award was Ultrahaptics, a SETsquared Bristol spin-out who is the world's leading mid-air haptics company. The company has developed a unique technology that enables users to receive tactile feedback without needing to wear or touch anything. The technology uses ultrasound to project sensations through the air and directly onto the user's hands, enabling users to 'feel' virtual buttons, get tactile feedback for mid-air gestures, or interact with virtual objects.
The evening, hosted by Dr Emily Grossman science communicator, broadcaster, and educator, and an expert in molecular biology and genetics, was made possible by a fantastic community of attendees, judges, and sponsors – particularly headline sponsor the Bristol BioDesign Institute.
Local MP Thangam Debbonaire kicked off the celebrations commenting "I am delighted that this celebration of scientific and technological innovation is taking place in the region.  There is a lot of cutting-edge scientific research in the region. This has contributed to the region's well-deserved reputation for creativity and innovation, evident in our universities and the agenda-setting businesses which contribute so much to the economy."
"The South West displays exceptional research strengths across life sciences, quantum technologies, robotics and advanced engineering. Recently, there has been a major increase in business formation around ideas derived from academic research. The Launch Great West Awards celebrates the achievements of this growing community to inspire the next generation of scientific entrepreneurs" states Dr Ben Miles, CEO of Spin Up Science Ltd, the organising group behind the event.
While discussing the increased scientific start-up activity in the South West, Dr Harry Destecriox stated,
"I really see this [Launch: Great West] as a landmark event. What has happened in the [South West] in the last 24 months is really hard to take in and these moments are really important just to stop and look back and take stock of what's happening. I'm really excited about what the next 24 months holds."
The 2019 finalists also included SETsquared Bath members The BioFactory who was nominated for two awards.
Read the full press release on the Launch: Great West Awards evening.
Mailing List sign-up
Get all the fresh insights first! Stay up-to-date with all the
latest investment news, blogs and all things SETsquared.
Sign-up
Close