ChargedUp raises £2m to expand mobile charging network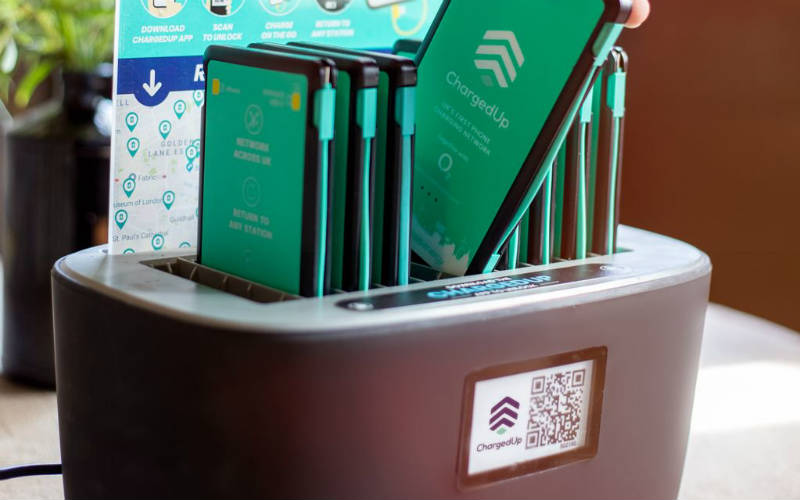 SETsquared Exeter member, ChargedUp, has announced investment success having secured a £2m funding injection through M-Venture and JamJar Investments.
This recent funding will enable the company to expand its product range, allow them to invest in growing further a network of power bank locations within the UK, while supporting the company's growth into Europe.
ChargedUp has created the UK's largest phone charging network with power bank vending machines in venues nationwide. Founded in 2017 by Hugo Tilmouth, Hakeem Buge,  Charlie Baron and Forrest Skerman Stevenson they have created a service that allows users to rent power banks by scanning a QR code through the ChargedUp app. With the idea that no one will run out of battery whilst out and about.
Working with award-winning green energy supplier, Octopus Energy, which matches all the power used through the network worldwide with renewable energy directly into the grid, shows the forward-thinking direction ChargedUp are aiming for.
The company now has over 1,500 locations countrywide helped by partnerships with major retailers and pub operators such as M&S, Stonegate and Brewdog. On top of this success in the UK in the Netherlands around 250,000 app downloads have provided users with an hour of charge.
Hugo Tilmouth, Founder, said: "We're thrilled to be working with a partner like M-Venture as their investment will help us to supercharge our growth in the late night sector and ensure more people across Europe won't get caught out when their phone battery is low."
ChargedUp has received business incubation support from SETsquared Exeter and also pitched at SETsquared's Graduate Acceleration Showcase earlier this year.
Are you a student? From idea to starting up phase, find out how SETsquared partnership can support you on your entrepreneurial journey.
Find out more
Mailing List sign-up
Get all the fresh insights first! Stay up-to-date with all the
latest investment news, blogs and all things SETsquared.
Sign-up
Close