Crowdcube set to innovate in the IPO market with £6m investment
●       Crowdcube prepares to engage retail investors in IPOs through a strategic investment from Numis
●       Iconic Silicon Valley investor Tim Draper invests alongside Draper Esprit
●       Existing backer Balderton Capital invests
●       Crowdcube has already amassed an investor community of nearly 200,000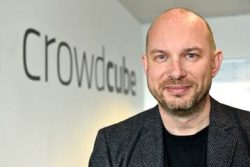 Crowdcube, the pioneering investment crowdfunding platform, today announced that it has raised £6m of investment to further accelerate its growth. The investment is led by Numis, a leading UK stockbroker and corporate advisor. Tim Draper and London-based Draper Esprit have also joined this new funding round alongside existing backers Balderton Capital, one of Europe's largest venture firms.
The investment will enable Crowdcube to accelerate growth, continue the expansion of its team, ramp up new product development including the creation of a new solution for companies going public, and invest further in its acclaimed marketing activities.
"We're on a mission to help more businesses raise the finance they need to grow, create jobs and deliver returns to investors. We've dominated the democratisation of seed-stage equity investment since we launched in 2011 and we're determined to do the same for larger businesses. We want to put the Public back into IPO," commented Darren Westlake, CEO and co-founder of Crowdcube.
Numis, which has raised £10bn for businesses since 2009 through more than 46 IPOs, will work with Crowdcube and the regulators to enable large high growth businesses who are 'going public' by listing shares on the London Stock Exchange's Main Market or AIM, to access individual investors.
Darren added "Our goal is to solve the funding continuum for ambitious, high growth businesses; delivering seed-capital right through to IPO. We have a proven track record of disrupting the status quo. With high calibre new investors joining the team who share our vision of widening companies' access to capital, this new round of funding puts us in a very exciting position."
Oliver Hemsley, CEO and founder of Numis said, "Crowdcube has created an impressive business model and technology platform that makes it possible for people to join together to finance pioneering businesses. Numis has a long track record of helping companies access funding for growth and this investment in Crowdcube will put Numis at the centre of the entire investment chain, from initial start-up capital all the way to IPO. We are very excited to be part of an innovative fintech solution to help the public markets evolve and connect retail investors directly with fast growing businesses."
Tim Draper, managing partner of Draper Associates added: "I'm incredibly excited to finally become part of the Crowdcube story. I've followed Crowdcube's success for many years and have always been impressed with how they've managed to create and dominate the UK market, which is way ahead of anything in the US. We love to invest in market leaders with ambitious entrepreneurial teams so Crowdcube was an obvious choice for us."
Simon Cook, CEO of Draper Esprit added: "Crowdcube is breaking out as the leading financial tech platform for connecting communities of investors with fast growing companies in the world's most developed crowdfunding market. Crowdcube is rapidly expanding interesting products from small VC rounds to larger bonds, funds and now IPOs; using the power of the crowd to reduce costs, time and increase transparency for businesses and investors, within the UK's leading regulatory regime." Simon Cook will represent Draper Esprit at Crowdcube.
Crowdcube celebrated its first company exit in July 2015 when E-Car Club, which raised investment in 2013, was acquired by Europcar and delivered a multiple return to its investors.   Crowdcube has amassed an investor community of nearly 200,000 and attracts seasoned entrepreneurs of well-known and established, often VC-backed, businesses like Eden Project, JustPark, River Cottage and Camden Town Brewery, as well as start-up companies. Almost £100m has been successfully invested through the site since its launch in 2011. Crowdcube has also secured more investment for businesses in 2015 than the rest of the market combined, according to data from Crowdsurfer, an independent crowdfunding market data researcher.
Balderton Capital, which has also invested in disruptive financial tech companies such as Zopa, Nutmeg, Revolut and GoCardless, has a long history of backing disruptive and innovative businesses. Partner Tim Bunting, who also sits on Crowdcube's board of directors said: "Crowdcube enables growth-phase companies to appeal to a broad and diverse community of investors. E-Car Club's recent exit demonstrates the wisdom and effectiveness of the crowd, and the positive effect they have on ambitious businesses. Crowdcube is exceeding its growth expectations, and continuing to disrupt and democratise business finance, and we are delighted to continue working with the team."
With over 70 employees in London, Barcelona and Exeter the company surpassed the amount successfully invested through the site during 2014 in the first six months of 2015. An infographic charting the success so far in 2015 is available here: http://blog.crowdcube.com/2015/07/07/2015-so-far/
Mailing List sign-up
Get all the fresh insights first! Stay up-to-date with all the
latest investment news, blogs and all things SETsquared.
Sign-up
Close