Deloitte pitching contest challenges SETsquared student entrepreneurs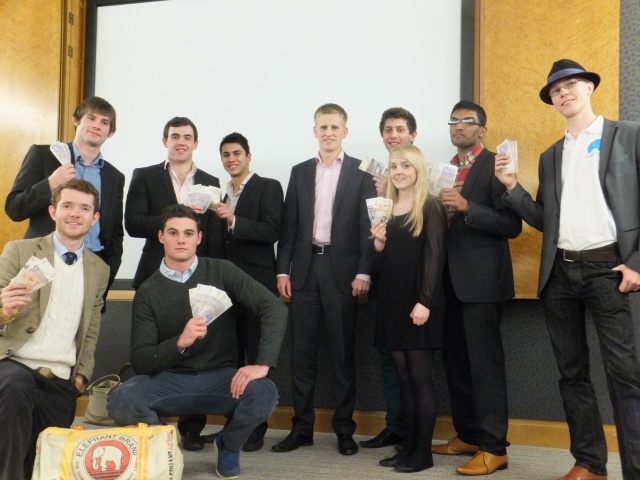 Student entrepreneurs of the future had a chance to practice their pitching skills at a competition yesterday in London. Over 50 students from five universities took part in the event, organised by SETsquared, the University of Bath and Deloitte.
At the event, held at Deloitte's UK headquarters, the students took part in a workshop on 'how to make a winning pitch' and then put this into practice as they pitched their businesses to a panel of judges made up from Deloitte consultants. Each pitch was five minutes long, followed by five minutes of questions from the judging panel.
SETsquared is the enterprise partnership of the Universities of Bath, Bristol, Exeter, Southampton and Surrey, and yesterday's event was part of a programme it provides to help students at the five universities to develop their business and entrepreneurial skills. The event provided student businesses the opportunity to network and learn from each other's businesses. It also gave the participating students a chance to spend time with Deloitte, and find out more about working for the company.
As well as gaining valuable feedback from Deloitte, the participants were competing for cash prizes totalling £500. One participant, Tom Dewhurst with his company Child Identification Program, was also given the wildcard place for the final of the Bath Business Plan Competition by the judges.
Twenty-nine businesses were pitched at the event. Most of the companies were less than a year old but already trading, and some were turning a profit. The most valuable part of the day was the opportunity for the businesses to do business with each other. One example was Whike, from the University of Exeter, who met Pedal Power Transport, from the University of Bristol, and are now discussing them testing their new sail assisted bike. In another example, social enterprise Elephant Bags, from the University of Bath, were going to share their knowledge of production and company development to assist social enterprise Every Foot Has a Home, from the University of Exeter.
"The business plan pitching event was a great success, and our judging panels were impressed by the high calibre of the student entrepreneurs from the SETsquared universities who took part," said Andrew Burton, consultant at Deloitte. "Deloitte is one of the largest professional services firms in the UK, and we are always looking for talented, innovative, graduates who can present their ideas in a professional and articulate way – events like this one provide great experience and an opportunity for students to practice skills that will help them when they graduate."
"Today's students face a difficult world after graduation, and it's important that they gain business skills as well as their degrees as this is what employers are looking for," said Graham Harrison, partnership director at SETsquared. "SETsquared is committed to ensuring all our students have the opportunity to develop an understanding of the business world. This event is an excellent way for our students to improve their pitching skills, essential for those looking to work in industry, start their own business or develop an academic career."
Mailing List sign-up
Get all the fresh insights first! Stay up-to-date with all the
latest investment news, blogs and all things SETsquared.
Sign-up
Close