Devon Garden Foods business secures funding to launch sustainable plant-based milk product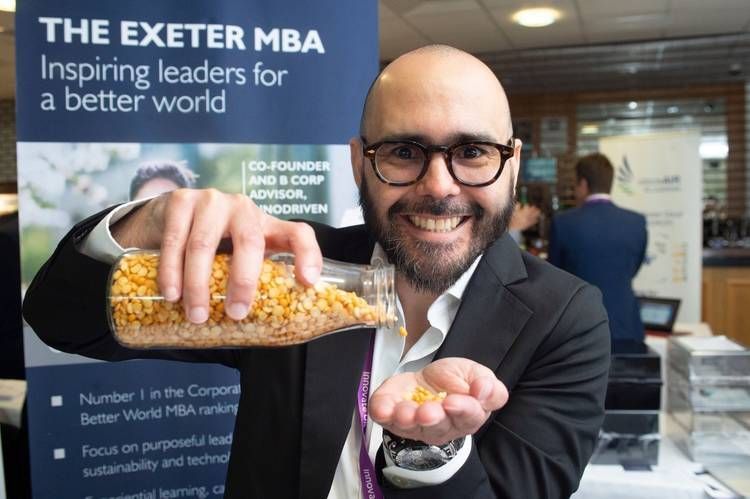 SETsquared Exeter alumni Devon Garden Foods is launching a pilot product of a new, sustainable, and nutritious plant-based milk. Start-up funding from Santander UK has enabled the business to increase digital marketing efforts, which is crucial for Devon Garden Foods' online launch.
The mission of Devon Garden Foods is to create a range of dairy alternatives that are better for the environment and better for the body. The first product is a milk-alternative made from yellow split peas, one of the most sustainable crops in the world, which unlike almonds or soya can be grown close to home and are full of nutrition.
The company was created whilst Cesar Torres was completing his MBA at the University of Exeter. Having quit his job as a geotechnical engineer in the offshore oil and gas and renewable energy industry, he was keen to do something more personally meaningful that would benefit our planet. The idea of creating a highly nutritious plant-milk came after Cesar suffered a bad motorcycle accident that shattered his leg and prevented him from being his normal active self. During his recovery, he found that plant-based products on the market did not have enough protein or fibre and were absolutely packed with sugar.
With the help of scientists who were experts in taste chemistry and pulses, the new pea-powered drink became a reality. It is highly nutritious, with 9.5g protein per serving, high levels of fibre, and no sugar. The business aims to be as sustainable as possible in everything that it does – including bio-based TetraBrik packaging and website servers powered by renewable energy. Also, 5% of the profits will go to the Sea Shepherd Conservation Society to support marine conservation projects in the UK.
Due to Covid-19, Devon Garden Foods are launching the product through their own online shop since retailers are not keen to stock as many new products at present. The Covid-19 Startup Support grant will enable the business to overcome the difficulties of launching a product like this online, through an increased marketing effort. Devon Garden Foods has already been able to send samples to a selection of influencers on Instagram and will start using paid promotions on social media to increase leads.
Due to the brand's focus on nutrition and active lifestyle, they are also partnering with various sports societies from the University of Exeter to run a series of fun challenges, which will build brand awareness of Devon Garden Foods, as well as promote sports society activities on campus.
Mailing List sign-up
Get all the fresh insights first! Stay up-to-date with all the
latest investment news, blogs and all things SETsquared.
Sign-up
Close