EVENTS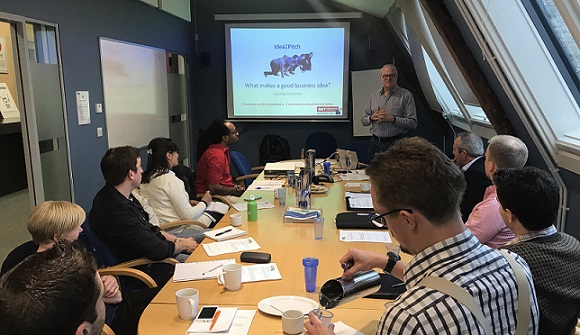 Do you have a great tech business idea, but don't know where to start? Or are you unsure what to do next in order to grow your technology company? Then sign up for the #Idea2Pitch event hosted by SETsquared Bristol is to help hone your ideas, and shape them into a pitch for gaining interest or support in your venture.
This event is free to attend and designed for non-SETsquared members. Tech founders or aspiring tech entrepreneurs of all levels and backgrounds are welcome to apply to attend.
#Idea2Pitch includes an interactive workshop on what makes a good business idea, and how to pitch it for maximum effect, and an introduction to SETsquared, the Global No.1 university-backed business incubator.
Schedule:
12.30 – 13.30 Intro to SETsquared
13.30 – 14.30 What makes a good business idea? Greville Commins (Entrepreneur in Residence)
14.30 – 14.45 Break
14.45 – 16.00 Developing an elevator pitch workshop by Greville Commins (Entrepreneur in Residence)
16.00 – 16.30 Pitch practice
16:30 End – participants are invited to make their way to Engine Shed at Temple Meads to join a SETsquared Connect networking event, where you can meet some of our current member businesses and mentors.
17:00 – 19.00 SETsquared Connect networking event on the 2nd floor at Engine Shed. With complimentary drinks and pizza. Featuring new SETsquared member pitches, an Alumni talk and 'Success of the Month' award.
Register now to attend
Mailing List sign-up
Get all the fresh insights first! Stay up-to-date with all the
latest investment news, blogs and all things SETsquared.
Sign-up
Close