EVENTS
Investment for Health Innovation: Data, Devices and Diagnostics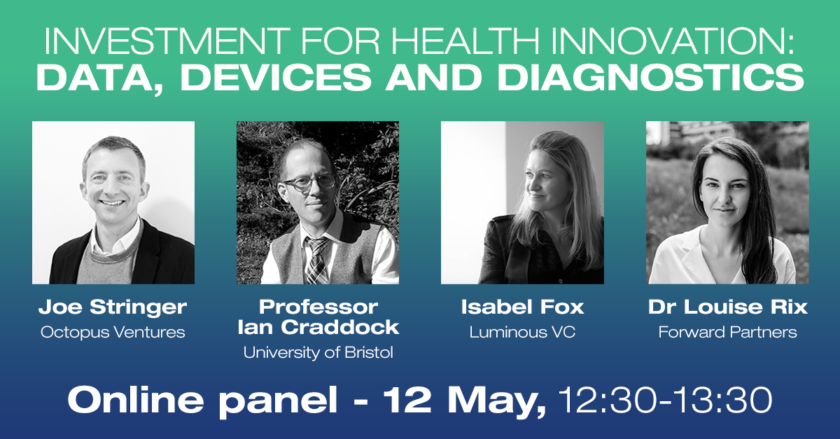 Are you raising investment in the health & wellbeing sector?
The COVID-19 pandemic has sharpened the focus on health and wellbeing. It triggered several years of digital transformation seemingly overnight, prompting the creation of a new wave of health and wellbeing technologies and accelerating those that were already in development.
This is certainly a trend we're seeing on the ground through our member cohorts. At our most recent investment showcase, over half the companies pitching for investment were early-stage health technologies. It's a trend that is also recognised in a recent report from the Silicon Valley Bank, which reported that record levels of capital were allocated and deployed to support innovative companies in the healthcare industry in 2020.
There are no signs that this trend is losing momentum, as the race to develop longer-term health tech solutions continues.
That's why we're brought together an A list panel of specialist investors in this field as well as academics, to explore investment trends driving the market and look in detail at what investors are looking for health tech investment prospects. We'll be covering:
is there a 'formula' to successfully securing investment for health innovation?
What are the latest investment trends that are driving the market?
What growth metrics are investors looking for in a pitch deck?
How does the UK regulatory framework influence investment decision making?
What is the best way to communicate your approach to key market challenges?
This event is hosted by SETsquared's Investment Manager Rosie Bennett and brought to you by SETsquared's Scale-Up Programme, which supports growing, innovative companies to raise public and private funding.
Ian is a Professor in the Faculty of Engineering at the University of Bristol. He is Institutional Lead for Digital Health, leading a programme of investment and research development across six faculties of his University. He leads the EPSRC funded "SPHERE" IRC programme, one of the UK's largest digital health research projects. His track record includes the successful commercialisation of a medical device. Ian's research interests including embedded AI for constrained devices such as wearables, the use of AI in clinical decision support, the analysis and visualisation of time-domain streaming data and the interface between health, AI and society.
Joe is a Partner at Octopus Ventures. Joe has over 24 years of experience in healthcare, covering technology deployment, management consulting, founding a number of successful businesses in the sector and subsequently five years of investing.  Joe founded TenX Health and subsequently joined Octopus Ventures on the back of leading Google Health in the UK, and the Ventures and Healthcare practices for EY in the UK.  He particularly loves tech that makes healthcare more accessible and affordable, developing new business models, challenging the comfortable incumbents, embracing technology and delivering better outcomes for consumers, patients and taxpayers.
In addition to his work with OV, Joe is a member of the UNAIDS Investor coalition and a Board Trustee of the Royal Society for Public Health (RSPH).  A (slightly predictable) fan of cycling, running and triathlon, when he is not on Strava or Zwift Joe spends his time with his family in Bath, walking the dog, watching Chelsea and Bath RFC.
Dr Louise Rix is an Investor at Forward Partners and a VC Investor (pre-series A) into next-generation e-commerce, marketplace and applied AI startups. Louise is a previous founder of a health care start-up, Entrepreneur First alumni and medical doctor. She is passionate about women's health and femtech.
Applications for this event are now closed
Mailing List sign-up
Get all the fresh insights first! Stay up-to-date with all the
latest investment news, blogs and all things SETsquared.
Sign-up
Close