Exeter entrepreneur takes off with innovative travel app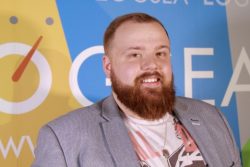 KOMPAS co founder Tom Charman
Exeter SETsquared member, Tom Charman is co-founder and CEO of KOMPAS, a novel travel application that uses machine learning to suggest travel recommendations based on your personal interests and location at any given time.
The KOMPAS team have exciting plans for the growth and development of the company, which has come a long way since the business model was first conceived.
Tom graduated from Exeter with fellow KOMPAS co-founder, Olivia Higgs, but it wasn't until they were travelling together in Munich that the idea for KOMPAS was realised. Tom explained: "We became aware of an absence in the travel market first-hand; travel guides offered generic, typically over-exaggerated accounts of cities and points of interest. We wanted to find unique places, relevant to us that were specifically tailored to our interests. The idea of KOMPAS, an app based on personality type, capable of producing personalised itinerates, suddenly became so necessary."
It was also Tom's passion for technology that inspired the innovative approach of KOMPAS, as he described: "I've always been interested in technology and its use in everyday life. I fell in love with the idea of artificial intelligence when I started work on KOMPAS, as I immediately saw the opportunities generated as a result of the cutting edge technology. Machine learning is something I'm particularly interested in, and an area of technology that I can see growing a huge amount in the next few years."
Having been involved with entrepreneurship from an early age, a member of the Exeter Entrepreneurs Society and even representing the UK at the World Finals of the Global Student Entrepreneur Awards and University Startup World Cup, Tom is no stranger to the challenges of entrepreneurialism. However, it was through the Exeter SETsquared Centre that Tom benefitted from a grant and followed the Think:Try:Do student support programme. Tom explained: "Joe Pearce, the Exeter SETsquared Centre Director and the Student Entrepreneur in Residence team empowered us to take our business idea to the next level."
For Tom, it's vital for early stage business idea to receive necessary mentorship and feedback on ideas. "It's essential to find the right mentor for you, somebody with good knowledge as an advisory board; you must share your idea, get feedback and validate it. Your idea must be tested in the real world."
Now a mentor himself, Tom offers support to entrepreneurs via start-up weekends throughout the country including Exeter, assisting Stanford University to deliver entrepreneurship modules and most recently, presenting at TED Talks. Tom explained: "I aspire to create a lasting impact on the world, so that I leave my mark on society. Everything that I'm working on is either focused on increasing efficiency or giving equal opportunity to everyone, so that everyone has the same chance to succeed, which is why I offer so much time to mentoring."
Mailing List sign-up
Get all the fresh insights first! Stay up-to-date with all the
latest investment news, blogs and all things SETsquared.
Sign-up
Close