Exeter graduate business expands phone charging network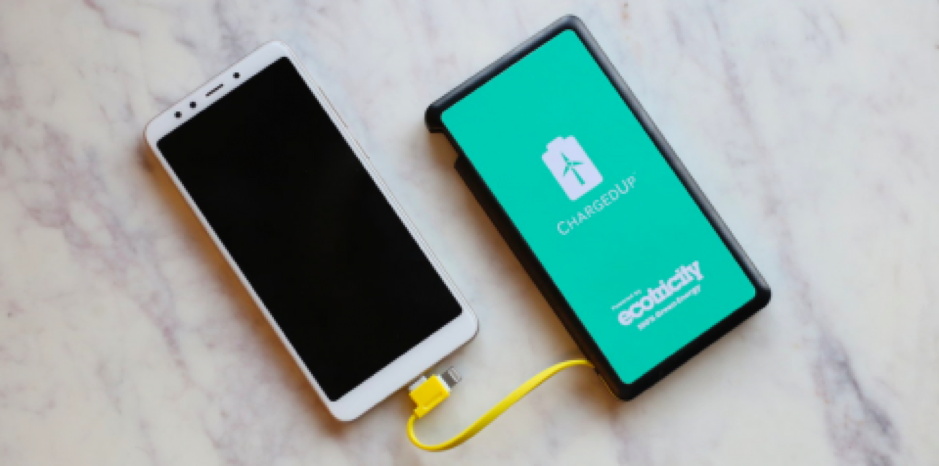 A green energy phone charging network, ChargedUp created by University of Exeter graduates has expanded its availability and is now available in forty venues across London.
Using power entirely sourced from green energy suppliers, ChargedUp users can hire and return batteries, for a small fee, from a network of locations in towns and cities including London's Oxo Tower restaurant and the Hoxton Seven.
The business was created by masters graduates in Renewable Energy Engineering, Hugo Tilmouth and Hakeem Buge. They wanted to create an easy, cost effective and green way to charge phones on the go.
The duo were able to first get their business off the ground with support from the University of Exeter, Student Support Programme, Think:Try:Do who awarded them with two initial grants alongside extensive guidance and support.
Having successfully launched in London and with support from Shell LiveWIRE via a Smarter Future Award and backing from O2's Think Big initiative, the team want to continue growing and begin a launch in Exeter. They are collaborating with Exeter-based Velocities, an accelerator helping to develop businesses tackling the challenges of energy use in Exeter and beyond.
Hugo said:
"We are forever grateful to Joe Pearce and the TTD team for helping us to realise the dream of ChargedUp and get us to where we are today. Our Exeter launch, where everything began will be a big milestone for us and we're initially undertaking trials at the University of Exeter with the intention of rolling out the network on a regional scale as soon as we can."
Joe Pearce, Head of Business Support said:
"It's a privilege to watch ChargedUp go from strength to strength. Hugo and the team had the initial know-how and patience to test the market and develop their business. I look forward to seeing ChargedUp at a venue near me very soon."
The team are working with major retailers including chains to ultimately ensure a presence across all high streets in the UK.
Mailing List sign-up
Get all the fresh insights first! Stay up-to-date with all the
latest investment news, blogs and all things SETsquared.
Sign-up
Close