Exeter graduates launch world's first carbon-negative loo roll company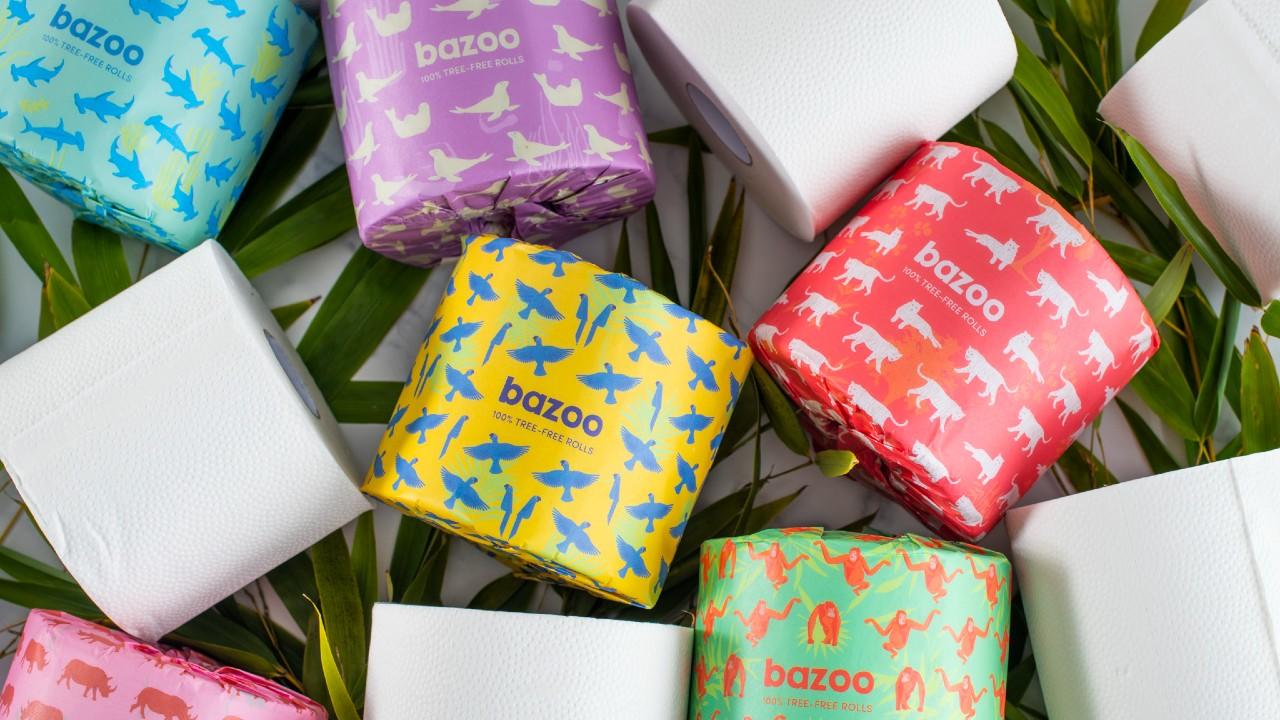 Two recent graduates from the University of Exeter have launched sustainable start-up Bazoo, producer of the world's first and only carbon-negative toilet roll.
Bazoo is an online e-commerce store selling tree-free and carbon-negative loo rolls made from 100 per cent FSC certified sustainable bamboo. The sustainable start-up has already received 51 pre-orders in its first two weeks, with customers choosing from wrapped, unbleached and totally chlorine-free bleached rolls – all vegan and plastic-free.
Sustainability is at the heart of Bazoo's mission, with co-founders Sanmarie Grobler (BA Liberal Arts) and Tom Trow (BSC Business Economics) always having a deep enthusiasm for the environment.
The co-founders have received ongoing support and advice from the SETsquared Exeter Student Startups team. This included the pair recently completing the Student Startups Incubator programme, which supported them in building and launching Bazoo, through skills development masterclasses and 1-1 mentoring. Bazoo was also granted £3,500 of start-up funding, made possible by the generous support of Santander Universities UK.
Sanmarie and Tom felt inspired by existing SMEs who go out of their way to make positive changes for the planet. Upon graduating from the University of Exeter during the pandemic in July 2020, they decided to be reactive to the situation they found themselves in, and caught onto the idea of bamboo toilet paper and starting their own company.
They work with environmental impact company Climate Care to calculate and reduce their carbon emissions as much as possible in production and manufacturing, before offsetting the remaining emissions by 200 per cent. This means that for every Bazoo product bought, carbon emissions are being physically removed from the Earth's atmosphere.
Bazoo is partnered with two UK-based sustainability charities – Rainforest Trust UK and Devon and Cornwall-based Just One Ocean, who carry out local ocean plastic pickups, as well as focusing efforts on protecting habitats and species around the world. Bazoo's wrappers come in six different designs, each featuring a different animal, complete with fun facts on the species, how climate change is affecting its habitat, and how buying Bazoo is helping to save them.
Emily Davies, SETsquared Student Startups Manager, said: "Tom and Sanmarie have been an absolute joy to work with. Their energy, dedication and commitment have impressed both the Student Startup team and the other student and graduate founders in our programme. They have come so far with this venture over the past few months and we can't wait to see how the next chapters unfold in the weeks and months to come."
Sanmarie and Tom said: "Being a part of the Student Startups programme at Exeter was such an eye-opening experience for us, that not only encouraged us to take our first steps into the entrepreneurial world, but helped us do exactly that. Everything that the programme offered us from mentors, to weekly catch-ups and endless alumni contacts, helped us hugely in setting the foundation which we started to build Bazoo on. Bazoo is all about sustainability; we want to do the Earth and all its species proud, however, we hope we can make Exeter proud too!"
Mailing List sign-up
Get all the fresh insights first! Stay up-to-date with all the
latest investment news, blogs and all things SETsquared.
Sign-up
Close