Fashion meets technology as designers, innovators and business experts come together to create future trends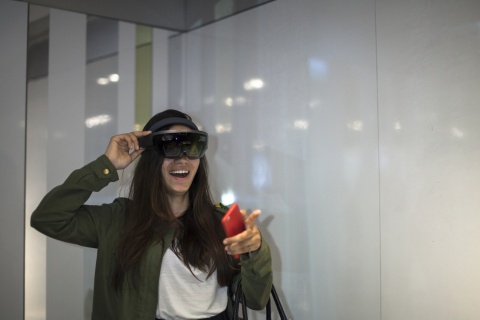 The fashion industry contributes £26bn to the UK economy, but developments in fashion technology have been far and few between.
Recent innovations mean that consumers can now wear a dress that lights up as it reacts to social media notifications, or shoes that automatically adjust to reduce pressure from tight laces and avoid the wearer slipping if they're too loose.
The world of fashion and technology may have been accused of being behind the times not so long ago, but it is more than making up for lost time judging by the array of incredible creations that have come about as a result of these two giant industries fusing.
The idea of wearing a jacket that saves you the inconvenience of having to answer the phone would have seemed absurd not so long ago. But in 2017 that is exactly the case with the Google-Levi partnered smart denim jacket, dubbed Project Jacquard, that as well as delivering the above services, also controls music and even offers information about nearby places.
Possibilities for merging fashion with technology – two pioneering sectors by definition – are endless. There is a never-ending flow of innovations emerging or soon to be discovered. The only question is: what will be next?
The Fashion Innovation Agency's upcoming "Fashathon" at the London College of Fashion, could see the next big thing as it brings together leaders from the world of fashion and technology after it teamed up with SETsquared – the global number one university business incubator.
The event offers delegates the chance to develop their ideas into investible business solutions in less than 48 hours. Creatives, fashion designers, technologists, people with business skills, students and entrepreneurs are invited to apply. Bringing together this fusion of skills and backgrounds will create the cross disciplinary expertise needed to fuse technology and fashion. Experts and mentors will be on hand to spark inspiration.
50 participants will be selected for the exciting two-day workshop in London that takes place on 30 June and 1 July from 9am to 7pm. The deadline for applications is on 26 May.
Simon Bond, Innovation Director at SETsquared, said: "The merging of technology and fashion has resulted in some incredible developments in recent times, with this sector set to continue its explosion over the coming years.
"We are excited to be joining forces with the Fashion Innovation Agency to bring together these two industries and offer people the chance to transform ideas into reality."
Matthew Drinkwater, Head of Fashion Innovation Agency at London College of Fashion, said: "We hope this two-day workshop will lead to the discovery of the next big thing.
"The digital revolution is beginning to force huge change within an industry that is ripe for disruption. Work at the crossroads of fashion, retail and technology is leading to new business models and products that will revolutionise our clothes and how we shop for them in the future.
"The main areas we have a particular interest in are artificial intelligence and machine learning, augmented and virtual realities, blockchain, internet of things, smart materials and robotics – and we can't wait to see how some of these innovations and ideas are harnessed during the Fashathon."
Mailing List sign-up
Get all the fresh insights first! Stay up-to-date with all the
latest investment news, blogs and all things SETsquared.
Sign-up
Close