Fashion tech innovation showcase goes off in style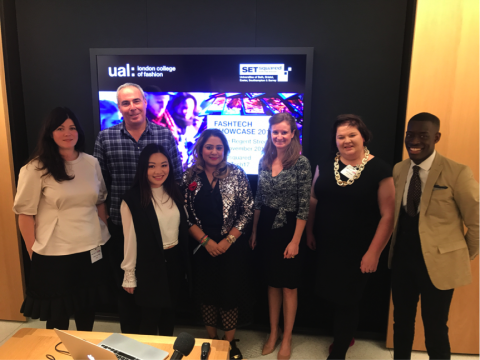 (From left to right) Aileen Carville SKMMP (back row), David Herman, Metapixel Studio (front row), Siena Hoggianto, Jeremy Mutebi & Co, Nadiya Siddique, Stealthy, Katharina Vandamme-Eybesfeld, Becoco, Sarah Galasko, Infi-tex, Jeremy Mutebi-Luzinda, Jeremy Mutebi & Co
Fashion tech start-ups were given a unique opportunity to pitch their innovations to investors and huge brands, including ASOS and Charlotte Tilbury, at a stylish event organised by SETsquared in conjunction with the London College of Fashion. The event was hosted by W Soho Hotel on 8 November.
Karen Brooks, programme director at SETsquared, said: "I'm delighted with how our first fashtech event went. Each of the entrepreneurs did a fantastic job in pitching their businesses to prospective buyers and investors. This was also the first event we've ever live streamed, something we are keen to continue going forward to ensure start-ups have the very best chance of reaching potential investors globally."
SETsquared, the global number one university business incubator, launched its fashion tech initiative earlier this year with the London College of Fashion to help budding entrepreneurs develop their business ideas and scale up to the next level.
Each innovator had a five-minute platform to pitch for investment and business support as well as make connections with key players in the worlds of fashion, business and technology.
The pitches were live-streamed inside the W Hotel's private cinema to a hand-picked audience of investors and buyers, and were also broadcast online to give investors worldwide an opportunity to see the innovations on show.
The companies pitching for support:
BECOCO – is building a virtual fashion styling platform to help retailers offer true personalisation to their consumers.
Infi-tex – has created smart textile pressure sensors, which enable electronic interaction and data collection via soft buttons that can be integrated into clothing.
Jeremy Mutebi – has developed a platform that allows men to shop outfits based on the latest trends, and create collections based on collaborations with style bloggers and brands.
Metapixel – is creating the world's largest library of 3D scans of people, objects and environments to sell on our ecommerce store, we aim to be the 'Getty Images' of the 3D world.
SKMMP – is a fashion supply chain platform for ready to wear Designers. The physical and online digital showroom significantly reduces cost and risk associated with B2B wholesale allowing designers and buyers to do business remotely.
Stealthy – is the first smart well-being jewellery brand which actively facilitates a happier and healthier life. Using innovative design the jewellery brings mindfulness to wearers helping them avoid depression and other associated illnesses caused by hypovitaminosis/vitamin D deficiency.
Following the pitches, the entrepreneurs got the opportunity to showcase their products at a tech demo party at the glamourous W London in Soho.
Speaking about how funding would be used to help grow her company, BECOCO founder, Katharina Vandamme-Eybesfeld, said:
"When we get the funding we are looking for, we would like to invest into our team and expansion. We have a very lean business model, investing in our resources will allow us to scale up and hit the ground running."
As well as pitching for support, the fashtech showcase was a great opportunity for the entrepreneurs to share the stories behind their innovations.
Nadiya-Keya Siddique, founder and CEO of Stealthy, explains how she came up with the idea of designing cognitive fashion jewellery that helps with wellbeing:
"In 2015, I forfeited a scholarship and place at a leading fashion school as a result of a hiking accident in Cambodia. I later learned I was severely vitamin D deficient having spent most of my professional life in corporate environments. Following my accident, I worked in the fashion tech industry and also gained experience in healthcare private equity.
"My life experience, coupled with my professional work formed the concept of Stealthy. We're currently working on a prototype with leading experts in IOT to bring to market a collection of cognitive wearable well-being jewellery, to prevent the associated problems of Hypovitaminosis D (depression, osteoporosis, infertility) and raise awareness of this silent epidemic."
Mailing List sign-up
Get all the fresh insights first! Stay up-to-date with all the
latest investment news, blogs and all things SETsquared.
Sign-up
Close