Female space tech entrepreneurs bring space back down to earth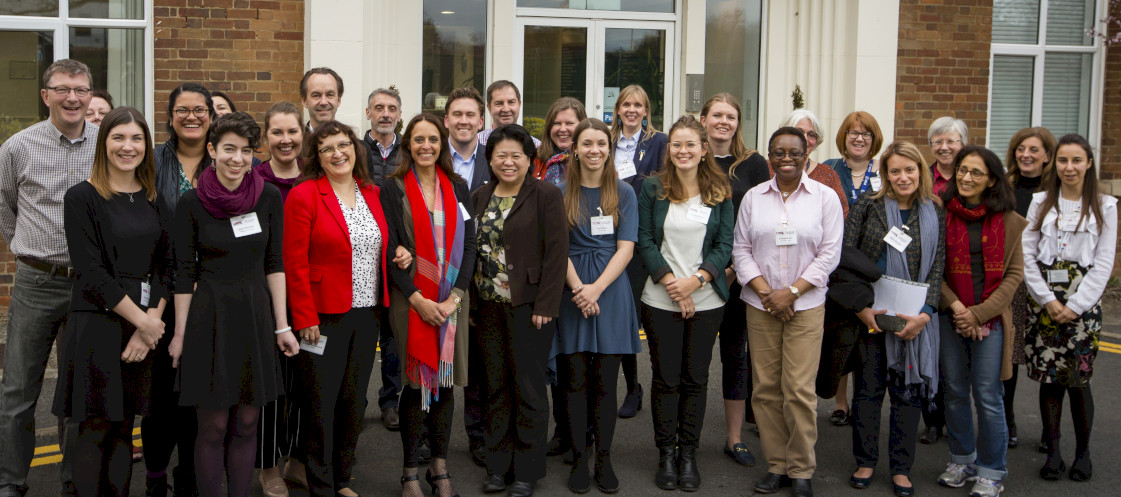 **Fifteen female entrepreneurs gathered at the Women's Satellite Data and Space Tech event run by SETsquared and UK Space Agency**
**Delegates heard from a group of top innovators in the space sector, including Kathryn O'Donnell from Spacetime Enterprises**
**Event held at the UK home of space innovation, Harwell Campus in Oxfordshire**
Fifteen female entrepreneurs working with satellite and space tech gathered at the renowned Harwell Campus in Oxfordshire this week (March 14-15) to learn the fundamentals of starting and growing their own business.
Organised by SETsquared in partnership with the UK Space Agency, the Women's Satellite Data and Space Tech event was devised to support the growing number of women and female founders working in the space industry.
The two-day workshop, which is one of SETsquared's established programmes to support businesses at every stage of their growth, brought fifteen enterprising women, each working on a business that uses satellite data like GPS or another type of space technology, together to engage, inspire and develop their ideas and learn how best to turn them into commercially successful businesses.
The group heard from other women at the entrepreneurial 'coalface' who told stories of how they succeeded in setting up their businesses and raised investment. They also had the chance to practice pitching to a panel of investors and expert mentors who each gave them constructive feedback and advice.
Tanuvi Ethunandan, Data Duopoly, commented: "Being able to pitch my business and investment requirements to such a well-respected panel was an invaluable experience which has enabled me to hone my thinking and really start to understand what investors and other stakeholders are looking for. It was also incredibly useful to meet other women in a similar position and to know I'm not alone in my challenges, frustrations and achievements!"
At the end of the second day, the female entrepreneurs took part in a speed mentoring session with SETsquared mentors which helped them shape their proposition and come away with a detailed picture of their potential customers and prospects.
Catherine Mealing-Jones, Growth Director at the UK Space Agency, added: "A successful UK space sector relies on harnessing all the talent we have in the UK. With women currently underrepresented in our sector, we wanted to run a programme which celebrates, champions and nurtures some of the fantastic women working in space tech. The event has given 15 female entrepreneurs the chance to network, to strengthen their business proposition and to address the considerable market opportunities available."
Karen Brooks, programme director at SETsquared, commented: "The space sector has seen growth rocket in recent years as barriers to entry become lower, the cost of sending satellites into space decreases and Government increases its support and funding for the sector. Coupled with unlimited business and consumer applications for the use of satellite data, it's easy to see why so many entrepreneurs are grasping the opportunity to innovate in this area. Increasingly, these entrepreneurs are women, but they are still under-represented in the sector as a whole, which is why events like this one are so important for nurturing and developing talent and inspiring female talent."
The SETsquared Partnership, which is a collaboration between the universities of Bath, Bristol, Exeter, Southampton and Surrey, is an award-winning and world-leading business incubator and start-up accelerator network. Since its inception in 2002, it has supported more than 3,500 technology-based organisations through their lifecycle and helped them raise more than £1.8 billion of investment.
The Partnership champions diversity in technology and is committed to supporting female tech entrepreneurs.
Karen Brooks continued: "In 2016, SETsquared commissioned a report which looked at how the Partnership could attract more women and support their developing businesses better. At the time, only 10 per cent of SETsquared Bath companies and four per cent of SETsquared Bristol companies were being led by women. Today, we are proud to say those figures have risen to 25 per cent and 15 per cent respectively and we're committed, through initiatives such as this women's Entrepreneur's Programme, to continue to improve the numbers of female founders we support."
The UK's space sector has seen significant growth in income, exports and employment in recent years, with total income now standing at £14.8 billion. The sector employs 41,900 people, while exports are worth £5.5 billion.
Much of this growth is due to space manufacturing, including satellites, ground systems and components. The UK has significant capabilities in this area, building major parts for one in four of the world's commercial telecommunications satellites.
Mailing List sign-up
Get all the fresh insights first! Stay up-to-date with all the
latest investment news, blogs and all things SETsquared.
Sign-up
Close