Former SETsquared Bristol Centre Director Nick Sturge awarded MBE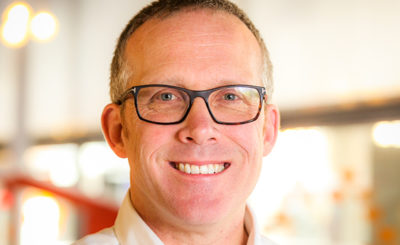 Nick Sturge, the long-standing former Centre Director at SETsquared Bristol and current Director of Engine Shed, is to receive an MBE in the Queen's Birthday Honours for services to the digital economy.
Commenting on his award, Nick said:
"I am honoured (obviously) to have been recognised for the work I've had the privilege of being able to do in the city that I care passionately about, the South West, and the wider UK economy. Only someone with a very vivid imagination could have predicted how the local tech sector has progressed over the last 10 years. The University of Bristol has been very far-sighted in providing freedom to experiment with collaboration, partnerships, and a new model of economic development in Bristol & Bath, and I am proud to have been able to convene such a rich variety of partners to help make our city region a better place. There is so much more to do – to make sure it is a better place for everyone – and I am committed to continuing progressing his through the lens of inclusive economic growth."
Professor Hugh Brady, Vice-Chancellor and President of the University of Bristol, said:
"Huge congratulations to Nick, who is a worthy recipient of an MBE for his services to the digital economy. He has been the driving force behind both SETSquared Bristol and Engine Shed, providing invaluable support to emerging high-tech businesses in the region and inspiring the next generation of innovators. His efforts have contributed immeasurably to Bristol's standing as one of the leading cities in Europe in which to build and grow technology-based businesses."
The honours system dates back to and recognises people who have:
made achievements in public life
committed themselves to serving and helping Britain
Recipients of the award have usually made life better for other people or are outstanding at what they do. Whether someone gets an honour – and the honour they get – is decided by an 
honours committee
. The committee's recommendations go to the Prime Minister and then to the Queen, who awards the honour.
Nick will receive his MBE at a later date to be announced.
Mailing List sign-up
Get all the fresh insights first! Stay up-to-date with all the
latest investment news, blogs and all things SETsquared.
Sign-up
Close