Funding for Bristol based on-demand staffing platform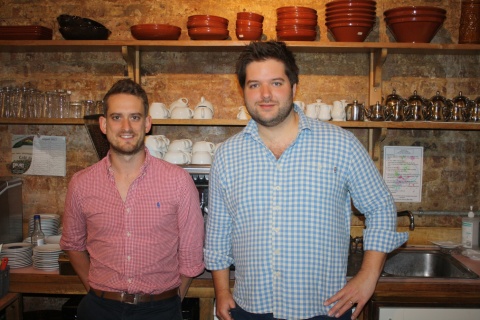 Chris Sanderson (left) & Richard Lees co-founders of Limber
A digital platform that provides businesses with a new way to hire part-time staff for shifts has received a funding boost to accelerate its roll out plan.
Limber enables cafes, restaurants and bars to fill their shifts at the touch of a button and build pools of trusted workers. The business, based in The Engine Shed, Bristol, has raised more than its £250,000 initial funding target in a round led by the Bristol Private Equity Club (BPEC).
Limber was co-founded by former technology lawyer Chris Sanderson and ex-technology strategist Richard Lees, who developed it alongside their partners, JMAN Group.
Said Chris Sanderson: "We launched the business in Bristol due to the large saturation of independent businesses here, all of which we thought could benefit from a better alternative for hiring part-time staff.
Richard explained: "We incubated at SETsquared in Bristol, the Global Number 1 University Business Incubator and so, it's great to be part of Bristol's burgeoning tech scene. Having raised our first round of funding we'll be growing our user base and investing heavily in the Limber platform."
Jerry Barnes of Bristol Private Equity Club said: "We were totally bowled over by Limber, which is well-executed and has a very practical and scalable idea in a thriving sector of the market. It is exactly the sort of business that our club looks to support and we believe we can make a real difference, which is why we have invested £150,000."
Bristol Private Equity Club, which now has 48 members, has now invested £1.26 million in local growth businesses since it was founded in May 2016. The club invests its members' money in projects needing between £100,000 and £500,000 of equity funding – filling a gap between start-up capital and Venture Capital Funds.
Limber provides a fast and simple to use platform for cafes, restaurants and bars across the city with many abandoning traditional part-time recruitment altogether. Limber's platform automatically handles everything from signing up to payroll. Not only do hirers and workers love the flexibility Limber provides, but the removal of all administrative overheads is a real bonus.
Chris explained: "There is a real variety of individuals using Limber to mix and match their shifts across the city. Many are students looking for bar and restaurant shifts, but other users include parents who have specific hours they want to work,  people on career breaks, creative freelancers or just anyone looking for top-up hours from another job. Basically, Limber is for anyone who wants greater variety and more flexibility in their work life."
Information on Limber can be found at www.limber.work. Established business figures in Bristol make up the Bristol Private Equity Club and they meet to consider potential investments. Information can be found at www.bristolprivateequityclub.com.
Mailing List sign-up
Get all the fresh insights first! Stay up-to-date with all the
latest investment news, blogs and all things SETsquared.
Sign-up
Close