High-tech UK start-ups take on Canary Wharf to pitch to corporate giants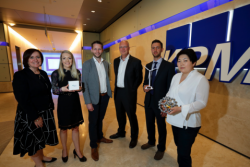 Image (from left to right): Karen Brooks, programme director at SETsquared; Maria McKavanagh, Verv; Tom Fox, tech growth advisor at KPMG UK; Simon Bond, innovation director at SETsquared; Saul Goldblatt, Perceptual Robotics; Asel Sartbaeva, Vaccines without refrigeration
18 of the UK's most exciting high-tech, high growth potential start-ups showcased to big name corporates including EDF Energy, Rolls-Royce and Samsung for the chance to have their product adopted by the business giants at KPMG in Canary Wharf last week (25 May).
The event, the Open Innovation Showcase, was organised by SETsquared, the global number one university business incubation programme run by a partnership of the universities of Bath, Bristol, Exeter, Southampton and Surrey.
The aim of the programme is to develop mutually beneficial partnerships or investment deals with the corporates discovering new technologies and products, while the start-ups get the chance to seal deals with business giants that they would never normally be able to access. With angel and venture capitalists also attending, the entrepreneurs had the chance to raise investment too.
As well as exhibiting, the start-ups also had the chance to pitch for five minutes each, to over 200 registered delegates, to explain how their technology will impact the market and change people's lives. All are looking for investment, corporate partners and connections to accelerate the growth of their business.
The results also provide a boost for the economy as big corporates get value straight out of university research bases and the tech community, allowing entrepreneurs to bring products and technologies to market faster.
Among the businesses who showcased are:
RazorSecure – which offers an advanced cyber-security solution designed to monitor, detect, report and protect critical infrastructure systems from hackers
Trackener – which has developed a 24/7 monitoring technology to improve the health and welfare of horses
ScreenLimit – which has developed an app that allows parents to remotely manage their childrens' screentime on devices including smartphones, tablets and web browsers
Verv – which is a self-install advanced home energy monitor that turns all appliances into smart appliances, by applying artificial intelligence to electricity data
Vaccines without refrigeration – which has created a method for preserving vaccines to avoid high amounts of medicine wastage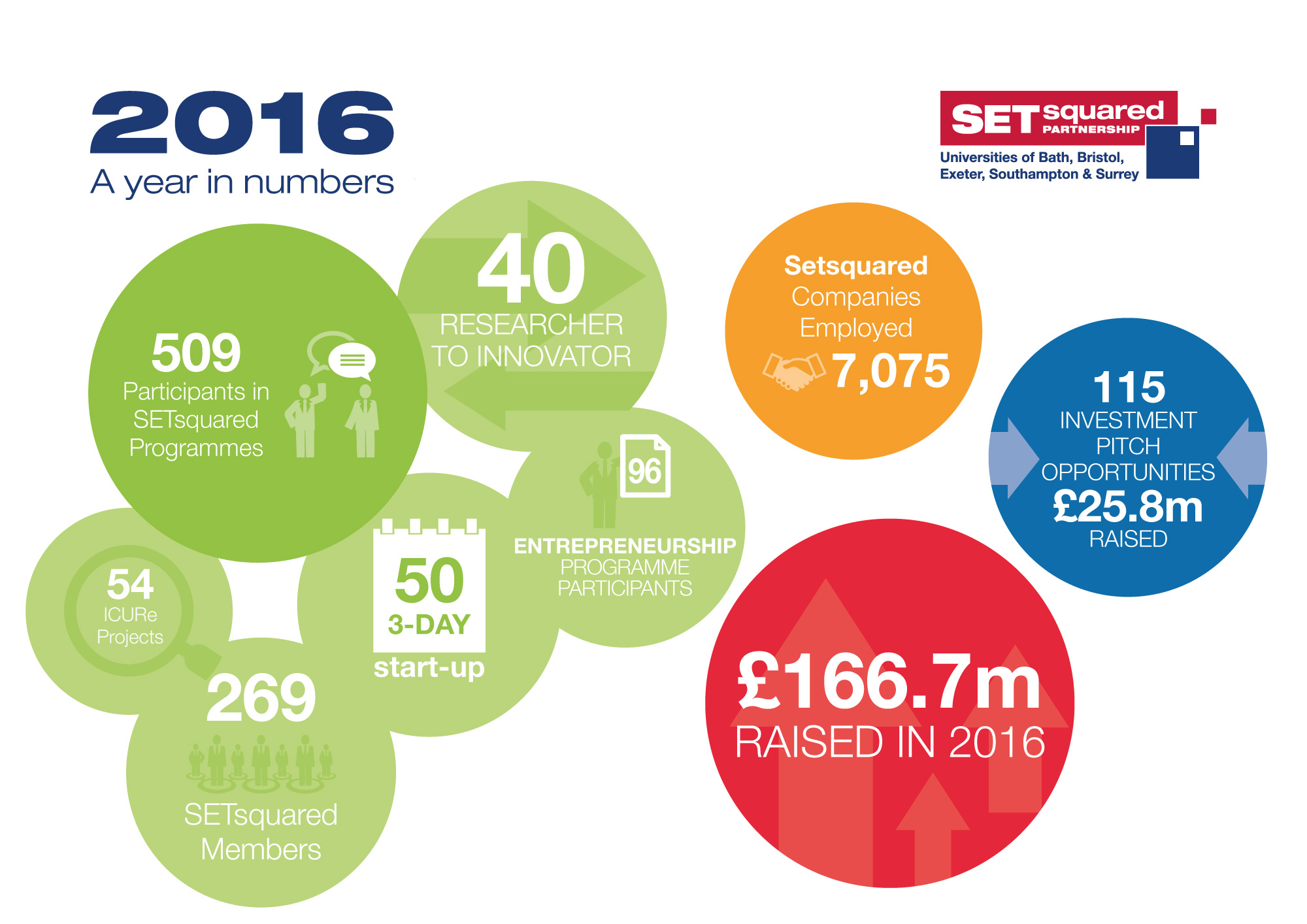 During the event Simon Bond, Innovation Director at SETsquared, announced that the incubator's start-ups had raised a total of £166m in investment during 2016, greatly surpassing 2015's record of £90m.
Simon Bond said: "Each year the entrepreneurial talent we see at the Open Innovation Showcase raises the standards. We're seeing more and more investment successes for our start-ups as a result of attending investment programmes like this, and by bringing the very best new companies together from across the South we're set to see that happen once again.
"We saw a real mix of tech sectors exhibiting and pitching at the showcase event this year, all who have the potential to grow and make a real difference. After 2016 was such a massively successful year of raising investment for our companies, we're aiming to beat that this year – and the Open Innovation Showcase is one of the ways to do that."
Feedback from the Rolls-Royce, Defence innovation team, who attended the Open Innovation Showcase, has been positive: "For Rolls-Royce it's an excellent opportunity to see a wide range of technologies in one room. Rolls-Royce is continuously seeking out emerging technologies that link to our future development areas, with this event identifying a number of areas of interest."
Ben McDonald, UK head of KPMG Enterprise, said: "We are delighted to have hosted this event as we know the positive impact that opportunities to collaborate, share knowledge and broaden networks can have on a business' growth prospects. Because of this, we want to play our part in fostering collaboration between established businesses, investors and SMEs who are looking to scale up their enterprises. Among the OECD nations, the UK has one of the lowest rates of expanding start-ups – so working with organisations like SETsquared and its members is a great way to demonstrate the benefits that collaboration and innovation have as real drivers of growth in the economy."
Over the last 15 years SETsquared has helped more than 1,000 businesses raise over £1bn in investment, as well as contributing over £3.8bn in GVA (Gross Value Added) to the UK economy with £8.6bn GVA estimated over the next 10 years – figures that have contributed to it being named by UBI Gobal as the top university business incubator in the world.
Mailing List sign-up
Get all the fresh insights first! Stay up-to-date with all the
latest investment news, blogs and all things SETsquared.
Sign-up
Close