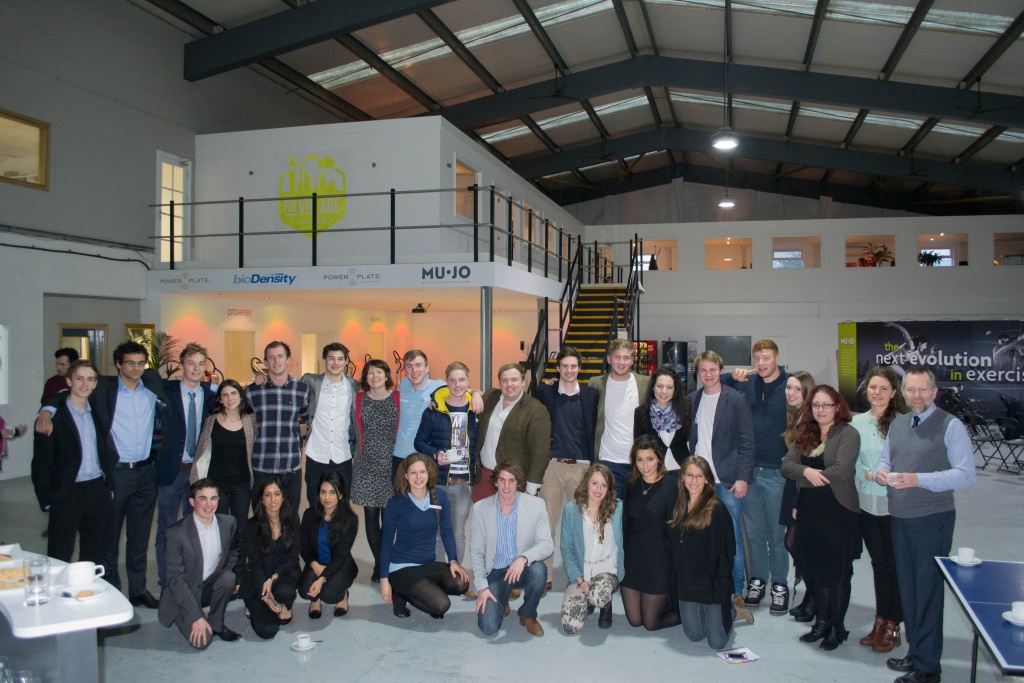 As the current series of Dragons' Den showcases some of the best (and worst) business pitches in the UK, a group of universities is working to ensure the next generation of dragons have the skills to bring in the dollar bills.
SETsquared, a partnership of the universities of Bath, Bristol, Exeter, Southampton and Surrey, is running a programme of activity all year to boost student entrepreneurialism and kicked off with a pitching masterclass and competition in London yesterday, to teach students the dos and don'ts of pitching to investors. 
The day saw 30 students, tipped as the entrepreneurs of tomorrow, get advice on how to obtain investment from industry experts, before going head-to-head and pitching their real life business ideas to a team of judges.
The event, in association with Find Invest Grow (FIG), proved the south's student population is certainly creative when it comes to business ideas, with everything from eco friendly dishwashers to edible insects being pitched.
SETsquared hopes that by giving the students intensive training they will be able to increase the students' entrepreneurial skills and prepare them for a real life 'Dragon's Den' situation.
Dave Jarman, SETsquared's chairman of student enterprise, said:  "We've seen some fantastic pitches on this year's Dragon's Den but we've also seen some downright cringe-worthy calls for cash. Giving the next generation of entrepreneurs the skills they need to be able to pitch for investment is important if we are to create a new wave of successful businessmen and women in years to come. 
"As a partnership we are doing all we can to nurture the next generation of entrepreneurs, through workshops such as this and our many other student enterprise events. Hopefully, in time, entrepreneurship will feature more heavily in school and college curriculum and pitching will be a honed talent for young people even before they reach university." 
The winners of Wednesday's event, held at FIG Village, were a pair of students from the University of Exeter. Headed up by 19 year olds Harry Nightingall and James Block, the business, The Gap Card, is a members' club for people taking a gap year. Being a member gives users access to discounts and benefits on courses across the world, from cookery to deep sea diving. 
Harry said: "The business is only a month old so it was really useful for us to get some advice and practice our pitching. We'll be using the feedback from the judges to fine tune our pitch as well as our business model, which will hopefully make us more successful in the future. 
"The £250 prize is a real bonus but even better is SETsquared said it will help us develop the business. Its contacts will be so valuable to us and help open doors."
Founder of Find, Invest, Grow, James King, said: "It was fantastic to see the enthusiasm and commitment of students exploring the paths that entrepreneurialism could offer them.
"The SETsquared event gave them the opportunity to gain feedback and meet people who can help develop and drive their ideas forward and we were very happy to help support it."
The success of previous student enterprise events run by SETsquared has been proven by the subsequent success of students who have taken part. 
Former University of Bath architecture student, James Boon, went on to found successful socially responsible business Elephant Branded after taking part in one of SETsquared's student enterprise events. His products are now sold in John Lewis in the UK, FAB in Germany and he is currently in Hong Kong expanding Elephant Branded into the Asian and US markets. 
Another group of students from the University of Exeter went on to win the world finals of app competition, The Microsoft Imagine Cup, picking up a $50,000 prize in the process. They are now working alongside Microsoft to develop their music sharing app and create new products.
To find out more about SETsquared and its other student enterprise events visit localhost/setsquared-live
Mailing List sign-up
Get all the fresh insights first! Stay up-to-date with all the
latest investment news, blogs and all things SETsquared.
Sign-up
Close