Interactive Scientific selected as people's choice for best elevator pitch at the SETsquared Annual Innovation Showcase
Ten companies from the Bristol SETsquared Centre, the Global No.1 university business incubator, competed in an 'elevator pitch' to promote their businesses at the Annual Innovation Showcase, hosted at Veale Wasbrough Vizards on Wednesday, the 15th of June. Interactive Scientific scooped a top award for the Best Elevator Pitch, as chosen by the audience on the night.
Interactive Scientific wowed the audience by talking about breaking the rules of the universe while using their Nano Simbox platform to make simulations in the molecular nano-world. Becky Sage, the Managing Director of the winning venture commented: "We are delighted to have been selected for the Best Elevator Pitch. We are currently fundraising, so the event has provided us with a great opportunity to raise awareness for our business!"
Other pitches included Yellow Dog, last year's winner, who offer crowdsourced 3D rendering for animators and was pitching for £1m funding, Gradient DM, who have developed the GAPsquare tool for measuring the gender pay gap, and My Action Replay who capture highlights from sporting events, instantly sending edited footage to social media channels and local TV.
The audience, who voted for the best pitch, was made up of investors, grant funders, senior executives from major corporations, supporters and mentors of SETsquared.
In addition to ventures pitching, 18 companies exhibited their innovations at the event. Among exhibitors, delegates could have a closer look at VRGO, a chair designed for Virtual Reality gaming, and Motion Impossible, a business who has created remote dolly systems for TV and film industries.
The event was opened by Monika Radclyffe, who was appointed to Centre Director for SETsquared Bristol in March. Monika talked about how all of the individuals gathered at the event are part of the ecosystem fabric and need to remain active connectors and supporters in order to ensure the cluster continues thriving.
Since last year's showcase the 65 SETsquared ventures have raised £33m of funding and created 200 new jobs, an increase of 40% on the previous year. After the event, Monika commented "We have 65 truly innovative businesses at SETsquared Bristol so I am glad we have had this opportunity to showcase some of them to the world today. I continue to be amazed by the technologies they create and we do everything we can to help them accelerate growth. It is an exciting time to be in Bristol and I hope next year we will see even more successes."
Robin Geller, the Registrar of the University of Bristol, who delivered closing remarks added: "We are in fast-changing times and we must keep abreast of and support new technologies as well as new business methods. The University is fully committed to innovation. Thriving as a tech cluster would not be possible without strong linkages and collaboration between the city, the industry and the academia."
The Innovation Showcase was sponsored by Veale Wasbrough Vizards, Barclays and Smith & Williamson, and kindly hosted at Veale Wasbrough Vizards' Bristol office. The showcase provided an invaluable opportunity for the region's high-tech, high-growth companies to network with potential investors, corporate partners and academics.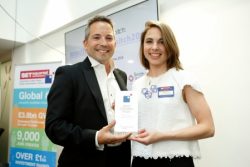 Winner of the Best Elevator Pitch, Becky Sage, Managing Director of Interactive Scientific, with Nathan Guest, Partner at Veale Wasbrough Vizards, the event's headline sponsor. Credits: Andre Regini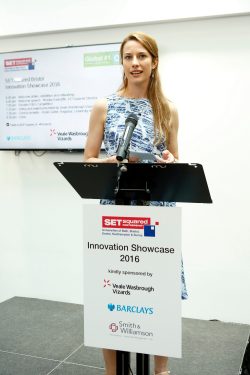 Monika Radclyffe, SETsquared Bristol Centre Director welcoming guests. Credits: Andre Regini
Mailing List sign-up
Get all the fresh insights first! Stay up-to-date with all the
latest investment news, blogs and all things SETsquared.
Sign-up
Close