Introducing SETsquared Bristol's Interim Centre Director Emma Thorn
We catch up with Emma to get to know her a little bit more and find out what she has in store for SETsquared Bristol while current Centre Director, Monika Radclyffe, is away on maternity leave.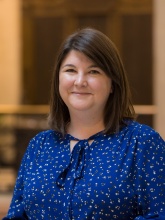 Emma Thorn, Bristol's Interim Director
What background experience do you bring to the interim role of Centre Director?
Plenty! I've got a strong and varied career in business with over 14 years in commercial and sales leadership roles in the corporate world mainly in consumer goods. I spent 8 years at global drinks giant, Diageo, and more recently worked with the guys at Bristol's Pieminister heading up sales. Lately, I founded my own sales capability consultancy, Emma Thorn Consultancy, to really share my passion for developing teams and individuals with other businesses.
What attracted you to the position at SETsquared Bristol in particular?
As a mentor at SETsquared Bristol, I was really impressed with the emphasis in the SETsquared programme on quality and getting the right business support for individual founders and members. For me, the opportunity to work in such a fast paced varied environment with entrepreneurs – ideas flowing and innovation happening all the time – is really exciting prospect!
SETsquared is a constantly evolving incubator space for high-tech, what changes do you hope to set in motion while at SETsquared Bristol?
The first part of my interim remit is clear: to maintain an excellent incubator service that serves for our current and incoming members …basically to do a damn good job at filling Monika's shoes! However, I also want to ensure the incubator evolves, grows and responds to needs both in the high tech and start-up ecosystems in Bristol. A key piece for me is to develop our alumni programme, and I will be looking to our more established incubator members to understand their future needs and wants from such a programme as and when the time comes for them to fly the nest! I want to ensure we create really dynamic opportunities for our alumni to engage with SETsquared and create a virtual circle of sharing knowledge, ideas to accelerate both members and alumni interests.I also intend to build on the great work already started in how we foster genuine diversity at SETSquared Bristol in terms of gender and ethnicity, and also backgrounds and technical specialisms.  I'm on a mission to harness what needs to happen to attract members from all walks of life and tech sectors, and how that in turn helps us to enrich the programme and experience for everyone here.
What other interests and passions outside of your work will you bring to the role?
I am a people person. I like to understand what motivates people, what makes them tick. When not in work, I enjoy being outdoors! I go Nordic walking (which is walking very fast with poles and looking quite silly) but its a great outdoorsy exercise and also really sociable as you do it in a group. I also go to yoga once a week and try to do a guided meditation every day even if its 10 minutes, as I know when I am looking after my wellbeing I am better off all round.
How can people best approach you?
I will be working at SETsquared 4 days a week so come and find me in the SETsquared office any day except Wednesday, or book some time in my diary with Emilie on reception.
Mailing List sign-up
Get all the fresh insights first! Stay up-to-date with all the
latest investment news, blogs and all things SETsquared.
Sign-up
Close