Livewire Digital successfully partnered with Focal Point VR to stream live 8K, 360° video at iconic trade show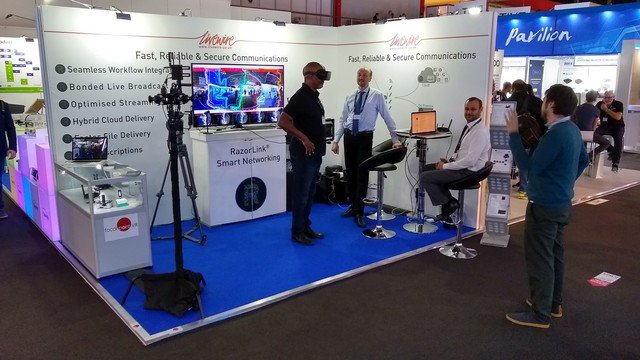 SETsquared Surrey member Livewire Digital partnered with Focal Point VR at iconic media and technology show IBC 2018 to showcase their combined technology delivering live, professional 360° video content to social media.
From the stand at IBC, Focal Point VR's cameras and equipment were used to stream 4K professional 360° live video to YouTube, and Facebook.
8K demonstrations were also carried out to a dedicated 8K streaming platform for a corporate customer. Social media platforms like Facebook and YouTube have a maximum resolution of 4K, so cannot accept the ultra-high resolution 8K feed.
The 8K video was streamed over Livewire Digital's newly launched SilverBlade II – a highly resilient system that provides an internet connection. The RazorLink® Smart Networking technology in SilverBlade II can provide the fast and reliable Internet connectivity necessary to deliver the content from the field where no fixed infrastructure exists. By bonding and optimising multiple cellular, Wi-Fi and satellite services, RazorLink offers a transparent connection with the performance and quality of service necessary to support the live streaming of very high resolution professional content.
Fully immersive 360° video will change the way the public views sports, news and special events, allowing them to be fully immersed within the action. Combined with augmented and virtual reality live stream, VR video will also offer a new dimension to education and the monetisation of content.
Commenting on the partnership with Focal Point VR, Tristan Wood, Managing Director, Livewire Digital, said "Immersive video is an exciting and growing market which requires the fast, reliable communications that RazorLink Smart Networking can deliver."
Jonathan Newth, Focal Point VR's CEO, said "The ability of VR Video to 'teleport' the media consumer to another place live represents an entirely new paradigm for video. We are really excited to be working with Livewire Digital to enable live VR video streams from virtually anywhere".
Mailing List sign-up
Get all the fresh insights first! Stay up-to-date with all the
latest investment news, blogs and all things SETsquared.
Sign-up
Close