My Action Replay Directors launch new tech start-up One Big Circle
One Big Circle borne from rescue situation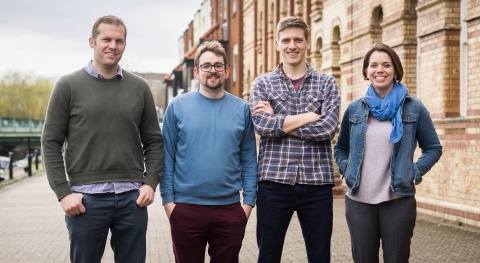 The crack team behind high tech firm, My Action Replay, has launched their new business, One Big Circle. Aimed at supporting entrepreneurs and innovative businesses, One Big Circle provides a multiple tech approach to enable rapid growth for clients. One Big Circle uses the latest in technical and software developments alongside business acumen to help clients solve complex technical challenges or bring an idea to commercial reality.
The new start-up was conceived through adversity when the My Action Replay Directors suddenly found their business was on the brink of collapse.   Less than a year after selling to New Zealand-based, CricHQ, the world's largest cricketing platform, things went sour when the main investors in the parent company pulled their capital after a new fundraising round failed to deliver, putting CricHQ into receivership.
On hearing about the sudden developments in New Zealand My Action Replay was forced into action to rescue their own business or face the loss of all equity with potential legal liability for unpaid bills. Having started their first business within the SETsquared Bristol incubator, the team returned to its roots to decide on their next step.
Emily Kent, Director of One Big Circle, takes up the story:
"The type of people we are, meant we were determined to make something out of what was left.  We have huge confidence in each other and our ability. We knew we could provide the receivers with support to keep the platform live and that we could provide tech solutions to others. So we made a plan over a crisis drink and went from there."
Within 24 hours, One Big Circle was created with the remaining staff and founders, Ian Packer, Sam Low & Barnaby Kent also becoming directors and making prompt contact with the New Zealand-based receivers and other potential clients. The negotiations eventually resulted in a valuable partnership with the new CricHQ owners. Other successes have quickly followed.
Emily explained:
"It's been a bit of a whirlwind since then. We've delivered a real-time app for use in the NHS, launched our own innovative marketplace app, and now have a number of collaborative contracts across sports, transport and IoT. Our first Software Developer apprentice has just joined us and we have plans for significant growth."
Emma Thorn, Director of SETsquared, commented:
"The tenacity shown by Emily and her fellow directors has been remarkable. It is not usual for our ventures to find themselves in a challenging situation such as this, but working with the team, we were able to help steer them to a successful outcome. Resilience is a common characteristic across our start-up membership, as shown by One Big Circle in the most trying of circumstances. Our incubation services are here to support members at every step of their progression, and we are delighted that One Big Circle are poised for success again."
One Big Circle has been working with start-up, beebooked, a local services business, bringing their app from concept to testing in eight weeks. The firm has also partnered with award-winning providers, FHIntuition, on delivering a real-time staff engagement tool on mobile devices.
In conclusion, Emily commented:
"After going through such testing times, we are delighted with the performance of our new business through both rescuing My Action Replay and restoring it to it former commercial glory, and in acquiring new clients. It is exciting times for One Big Circle and our team; we've ambitious plans and know nothing will stop us from achieving them."
To find out how One Big Circle can work with you to solve technical challenges or scale up through tech, contact [email protected] to take advantage of their plain-speaking 'Solutions and Costs' process, for free.
Mailing List sign-up
Get all the fresh insights first! Stay up-to-date with all the
latest investment news, blogs and all things SETsquared.
Sign-up
Close