OnCorps Secures $1.7 million In Series A Funding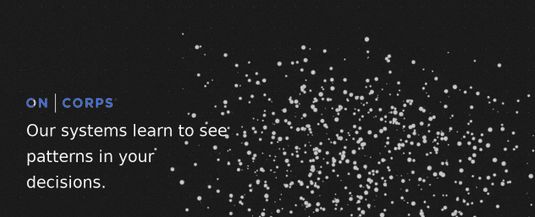 SETsquared Bristol member OnCorps, a machine learning company providing decision guidance software to the financial services and technology industries, has secured $1.7 million in Series A financing. The funding is provided by several prominent asset management executives interested in applying machine learning to support asset management decisions. OnCorps helps companies improve decisions by tracking and guiding a team's decisions then applying machine learning and behavioural science algorithms to improve performance.
This round's participants include, among others: Churchill Franklin, Chairman of Acadian Asset Management, and Joseph (Joe) Dello Russo, former CFO of MFS Investments, who is also a member of the OnCorps Board of Directors.
Dr Laura Lafave, Founder of OnCorps commented:
"We are looking forward to using the investment to accelerate our growth and continue to drive solution innovation in this area. To that end, we are also thrilled to be part of the SetSquared Scale-up programme and look forward to partnering with academic thought leaders on the future of work and applied behavioural science".
The Series A4 round brings OnCorps' total financing to $5.6 million. Prior seed investors include Andreessen Horowitz, the former international chairman of Accenture, the former COO of Bridgewater, a director emeritus from McKinsey, and the former CIOs of Merck, Goldman Sachs, Sallie Mae, and Fidelity.
OnCorps approaches machine learning differently. Instead of just tapping historic data to make predictions, OnCorps tracks the decisions of a team's best performers to train its algorithms. OnCorps has developed a unique methodology that integrates machine learning and behavioural science to guide decision-makers as it learns from their observations and actions. The company delivers customised systems in record time for the price of a SaaS subscription.
Mailing List sign-up
Get all the fresh insights first! Stay up-to-date with all the
latest investment news, blogs and all things SETsquared.
Sign-up
Close