Pioneering healthcare entrepreneurs ready their innovations for market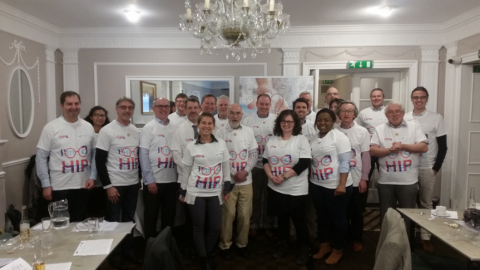 The class of the Wessex Health Innovation Programme 2018
Healthcare innovators from across the South of England gathered together to test out their business ideas in a four-day programme hosted by SETsquared and the Wessex Academic Health Science Network (AHSN).
The Health Innovation Programme (HIP) is a comprehensive business support programme designed for healthcare and life science businesses at various stages of growth. It offers expert led workshops that help business owners polish their proposition, write a compelling business plan, navigate the NHS landscape and find funding sources.
Among the innovations demonstrated at the event were a company app encouraging mental wellbeing in young adults through shared stories; a medic alert system, based on augmented reality technology, for people with autism or dementia; a device to prevent treatment disruption associated with accidental catheter removal; and a novel display to aid rapid clinical decision making based on large and complex patient datasets.
Since its inception in 2014, over 100 healthcare entrepreneurs have taken part in the HIP, many of whom have gone on to launch businesses which are making a difference to patients such as:
AutonoME: which enables adults with learning disabilities to scan a QR code on household items with any smart device and it plays a video of how to use it.
getUbetter: a suite of smart apps to help people self-manage back, ankle, shoulder and knee injuries.
Say It app: a pronunciation app which was initially designed for foreign students but is now being used in speech therapy and clinical settings.
Xim: has developed Lifelight which is able to measure patient vital signs in 60 seconds using just the camera built-in to smartphones, tablets or computers.
Renovos: is developing nanoclay-gels, which when injected into the site of fracture or bone injury will accelerate healing through a localised release of therapeutic agents.
Speaking about how the programme has helped his business, Laurence Pearce, the CEO and co-founder of Xim Ltd and HIP alumnus, said:
"The SETsquared partnership has opened the door to a range of investors and valuable business contacts. The coaching offered has also helped hone our pitch for investment. The tutoring and advice gained from the event has helped us to clarify our value proposition. We would definitely recommend it [SETsquared] to other healthcare start-ups."
Frank Ratcliff, Senior Project Manager, Wessex AHSN said: "The latest cohort on the Wessex HIP certainly didn't disappoint. We saw a wide range of exciting innovations, many of which could really help to make a difference to patients, save the NHS money, and grow the UK healthcare industry. The mission of the Wessex AHSN is to drive the adoption and spread of innovation to create a healthier nation and the HIP enables us to identify the entrepreneurs and start-ups who with the right support, could make huge improvements to our health and wellbeing."
Simon Bond, Innovation Director at SETsquared said: "We're delighted that the HIP programme continues to be a fantastic support to healthcare entrepreneurs. To date, it's supported more than 100 companies and has launched some fantastic businesses that are doing great things for health and social care in the UK."
SETsquared, the world's number one university business incubator, joined forces with four Academic Health Science Networks in the South of England in 2014 to set up the revolutionary programme that could see more effective and better value healthcare technologies benefitting patients quicker than ever.
The next HIP event is due to take place at the Village Hotel Swindon across the 7th, 8th, 11th and 15th June 2018. If you're an entrepreneur or business owner – find out more and apply
Mailing List sign-up
Get all the fresh insights first! Stay up-to-date with all the
latest investment news, blogs and all things SETsquared.
Sign-up
Close