Playwaze join Parkour UK as their technology partner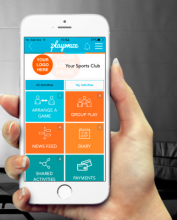 Surrey SETsquared member, Playwaze, has been chosen as the official technology partner of Parkour UK.
Playwaze is an innovative web and app platform that makes it easier for sports players, clubs and associations to organise their sports activities.
Users of the Playwaze app can already tap into their own online sports community, organising sporting activities, manage their teams, as well as share events and news.  By powering the Parkour UK app, Playwaze has enabled the Parkour UK community to attract new members by automatically promoting courses, profiles and sessions straight from the app onto the Parkour UK website.
The partnership allows Parkour UK greater transparency so they can engage directly with members, manage activities and accept online payments.
Rupert Jenner, founder and CEO of Playwaze commented "The solution we've provided for Parkour UK demonstrates how the Playwaze sports app can seamlessly integrate into broader systems.  Parkour is all about freedom of expression and Playwaze provides them with the opportunity to exercise support and governance without sacrificing freedom or introducing unnecessary admin."
Mailing List sign-up
Get all the fresh insights first! Stay up-to-date with all the
latest investment news, blogs and all things SETsquared.
Sign-up
Close