Precision medicine SME secures Knowledge Transfer Partnership to create personalised knee implants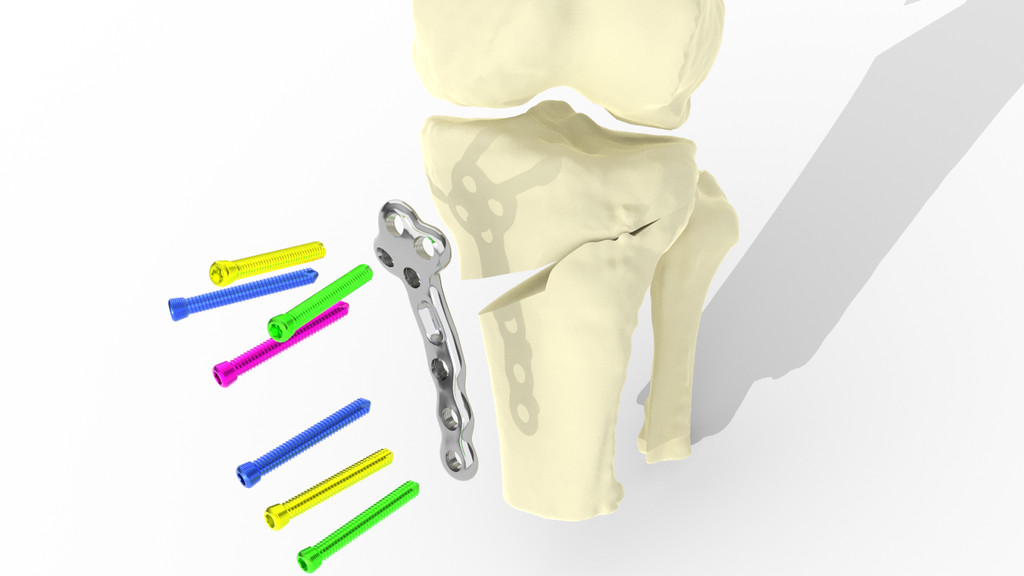 3D Metal Printing's bespoke implant preserves the existing joint and can be used at an earlier stage of arthritis, before a knee replacement is needed.
Scale-Up member, 3D Metal Printing (3DMP), has successfully secured a Knowledge Transfer Partnership (KTP) with the University of Bath thanks to support from the Scale-Up Programme.
3DMP specialises in manufacturing patients' specific medical devices and has developed TOKA, a precision engineering solution for patients undergoing knee preserving surgery.
TOKA offers a bespoke titanium 3D-printed implant to precisely fit the bone, potentially reducing the irritation to the surrounding skin and pain caused by existing larger 'one size fits all' solutions. The plate is structurally optimised for the load and movement of a patient's daily activities and encourages bone healing, resulting in a smaller profile and a faster recovery, following an initial period of reduced weight-bearing.
3DMP also specialises in developing surgical planning software (as medical device), the new frontier of the MedTech.  To increase company know-how, 3DMP applied for the KTP to help create specialised biomechanics software to structurally optimise and virtually test implants, to deliver true personalised medicine.
To create the super advance software, the team knew they would require support to outsource expertise in biomechanics, advanced mathematical modelling, clinical data analysis, knowledge of 3D simulation tools and engineering.
SETsquared's Scale-Up Programme played a significant role in introducing the team to Dr Elise Pegg and Professor Richie Gill at the University of Bath to help address the knowledge gap. Dr Pegg and Professor Gill have combined expertise in biomaterials, clinical data analysis, musculoskeletal modelling and medical devices.
In conjunction with the University of Bath's KTP team, the Scale-Up team worked with KTN Knowledge Transfer Adviser, Dr Geraint Jones, to provide independent expert advice to 3DMP. It also allocated a grant consultant to help write the successful KTP application.
Stephen Mayers, Head of SETsquared's Scale-Up Programme, said: "KTPs are a fantastic opportunity for businesses to benefit from additional expertise and support to deliver strategically important projects. Working with universities and Knowledge Transfer Advisers, as well as programmes like Scale-Up, provides a vital transfer of knowledge and forges important and lasting relationships between industry experts and businesses, and also businesses and universities."
Alberto Casonato, Managing Director, 3D Metal Printing Ltd, said: "Not only will the KTP increase the competitiveness of TOKA, our flagship product, it will also significantly reduce the time and the R&D costs of expanding the product portfolio of our personalised musculoskeletal treatments. We are delighted to have been awarded the KTP and to be working with such an experienced team from the university and Scale-Up Programme."
Dr Geraint Jones, KTN Knowledge Transfer Adviser, said: "This KTP will expand the reach and effectiveness of the TOKA product, by transferring the expertise required to embed biomechanical loading considerations into the personalised design of knee replacements. This will have a significant impact in terms of growth for the company, and the academic team will be able to realise the impact of their pioneering research in this domain. This also is a great opportunity for the KTP associate, with excellent commercial, technical and social impact challenges."
Knowledge Transfer Partnerships (KTPs) are funded by UKRI through Innovate UK to help businesses to improve their competitiveness and productivity through the better use of knowledge, technology and skills within the UK knowledge base.
KTP applications are open and SETsquared can provide funded support to SMEs interested in developing an R&D project.
Find out more & apply for the Scale-Up Programme
Mailing List sign-up
Get all the fresh insights first! Stay up-to-date with all the
latest investment news, blogs and all things SETsquared.
Sign-up
Close