Scale-Up Member Renovos wins funding to develop innovative technology to aid bone healing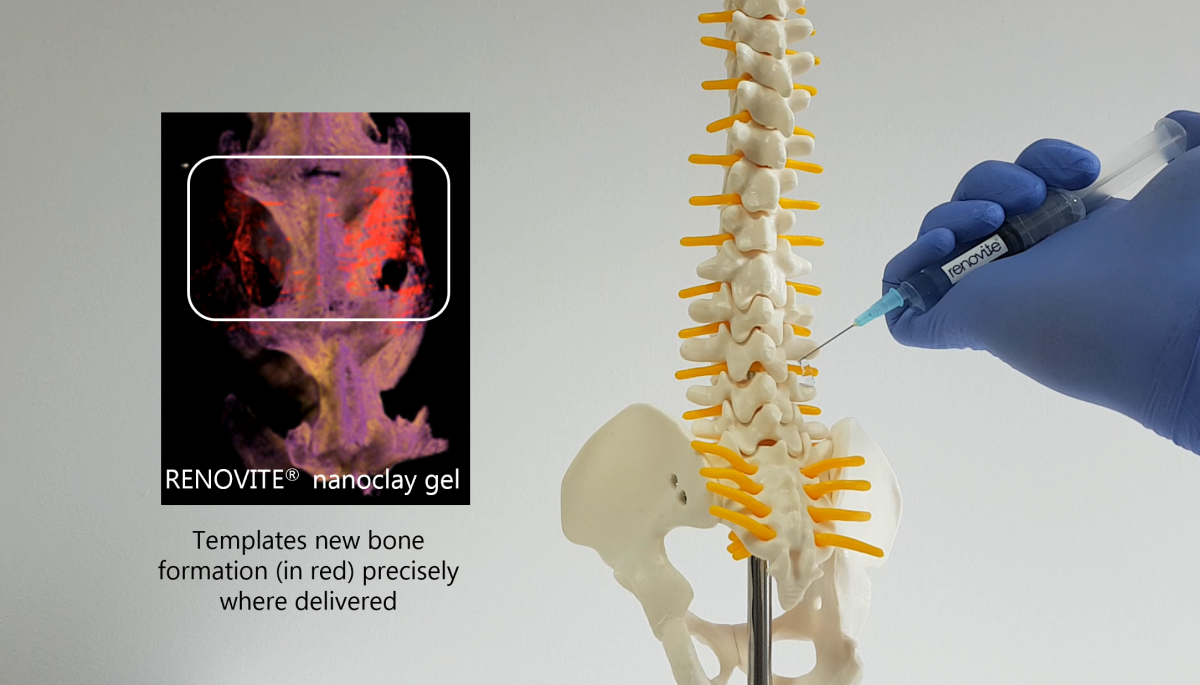 Scale-Up member Renovos has won £692k in grant funding to further develop its bone-healing product RENOVITE®, a promising new technology in regenerative medicine.
The Company has been awarded a Biomedical Catalyst grant from Innovate UK (a fund to accelerate promising innovations towards commercially successful products in the biomedical field). This project will accelerate the regulatory path by delivering further toxicology testing in models relevant for clinical applications in bone regeneration in spinal fusion procedures.
Musculoskeletal conditions are the leading contributor to disability worldwide, with the most common conditions being arthritis, back and neck pain, fractures, and injuries. Current bone healing agents are poorly localised and rely on very high doses which have been associated with some dangerous side effects.
Renovos provides a novel solution that can address the current limitations of localising bone agents at the site of repair, improving safety and efficacy. RENOVITE® is an injectable nanoclay gel which enables the use of bone-healing agents in a more precise, localised manner, at a significantly reduced dose, and a lower cost. Once injected, it attracts the patient's stem cells into the area to invade the material and break it down, in time replacing it with regenerated tissue. The project will deliver further pre-clinical trials and development. Renovos is also actively raising further funds for development of clinical grade manufacturing. Meeting these key milestones will be associated with a large uplift in value and position RENOVITE® closer to clinical trials.
The Company received support from the Scale-Up Programme to craft the initial bid which formed the basis of the successful submission to Innovate UK.
Agnieszka Janeczek, CEO of Renovos Biologics said, "We are thrilled that our RENOVITE® nanoclay gel technology has once again been recognised by the Innovate UK experts. As pioneers of nanoclay gels for tissue regeneration, we are excited about this funding and the progress in development it will allow us to achieve to get closer to the clinic. We anticipate RENOVITE® will provide novel solutions for bone fusion procedures and difficult to treat fractures, bringing benefit to increasingly active younger demographics, requiring tissue regeneration, as well as the progressively ageing population.
Innovate UK funding bids are highly competitive, having the Scale-Up Programme's support and "a second pair of eyes" has been very valuable."
Renovos is commercialising the world-class research undertaken at the Bone and Joint Research Group, at the University of Southampton, drawing on over 50 years' combined expertise in skeletal stem cells, translational orthopaedic research, and materials for tissue repair.
As well as the Scale-Up Programme, Renovos is among many life-changing, pioneering ideas to emerge from the SETsquared's Health Innovation Programme and the company also benefitted from SETsquared's Innovate UK funded Innovation to Commercialisation of University Research (ICURe) Programme which enables Early Career Researchers to establish whether there is a market for their innovations.
If you're interested in finding out more about Renovos' investment raise, please contact Agnieszka Janeczek
Find out more about the Scale-Up Programme
Mailing List sign-up
Get all the fresh insights first! Stay up-to-date with all the
latest investment news, blogs and all things SETsquared.
Sign-up
Close