Scale-Up member Truu scoop prestigious Healthcare and Pharma Award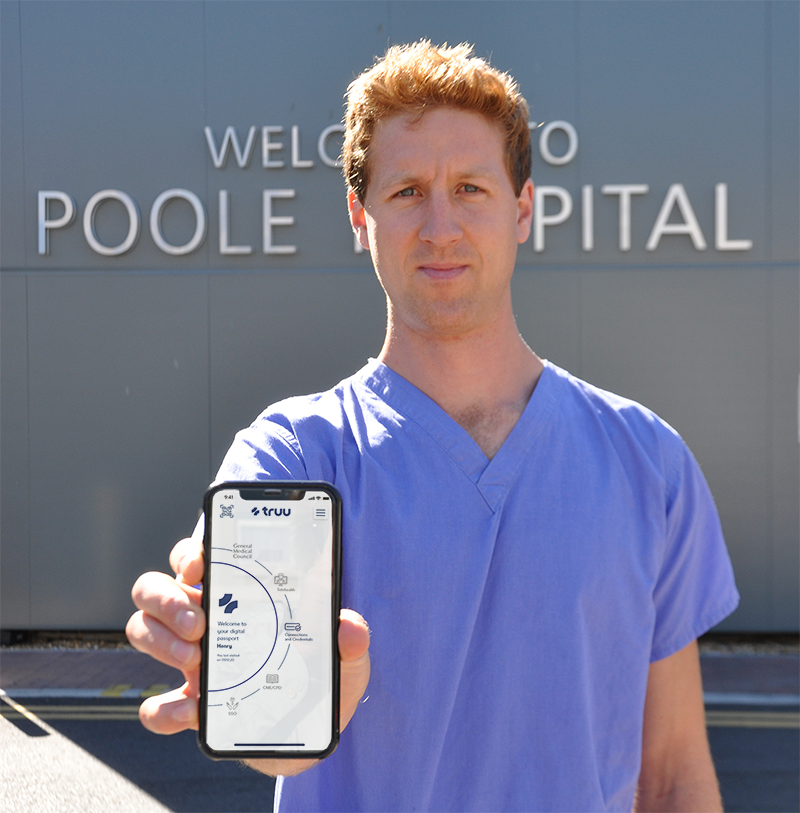 TRUU Co-founder Dr Henry Goodier with the app in front of his home hospital, Poole General
Congratulations go to Scale-Up member Truu which has been awarded 'Most Innovative Global Health Tech Company 2021' at the Global Health & Pharma's Healthcare & Pharmaceutical Awards.
Founded by two NHS doctors in order to solve a major problem within the health service, Truu seeks to empower doctors and reduce the administrative burden for healthcare organisations. It has developed healthcare digital staff passports which modernise the way medical services verify staff identities, qualifications, and certifications by enabling employees to prove who they are instantly, securely, and digitally.
During the height of the COVID-19 pandemic, the team were invited by the NHS to deploy the platform to help rapid redeployment of NHS staff between hospitals and its currently deployed in 99 NHS Trusts. They are also part the way through an EU Horizon 2020 grant, working the General Medical Council, UK Private Healthcare, and medical insurers to develop and pilot the platform for private healthcare use.
Now running in its seventh year, Global Health & Pharma's Healthcare & Pharmaceutical Awards are designed to recognise and award companies and individuals who have served a variety of purposes during the pandemic. From researching and developing innovative pharmaceutical products that can be useful for those who may have contracted the virus to providing exceptional healthcare services to consumers.
Simon Wickes, Chief Operating Officer, Truu said: "Winning this award isn't why we do what we do but it is so wonderful to be recognised globally for all our work over the past 5 years. COVID has raised awareness for the need of digital staff passports to support front line medical staff, but we know the value it can bring to the healthcare ecosystem outside the pandemic for healthcare workers and organisations.  Our technology supports healthcare professionals to spend more time doing what they do best – treating and caring for patients.  There are lots of exciting developments coming up for Truu as we develop its use for private healthcare and add new functionality through our EU project and a US-based pilot."
TRUU is currently raising investment and can be viewed on SETsquared's Investment Platform
View the Global Health & Pharma's Healthcare & Pharmaceutical Awards Guide
Mailing List sign-up
Get all the fresh insights first! Stay up-to-date with all the
latest investment news, blogs and all things SETsquared.
Sign-up
Close