SeeDATA and Exeter SMEs kick start the Scale-Up Programme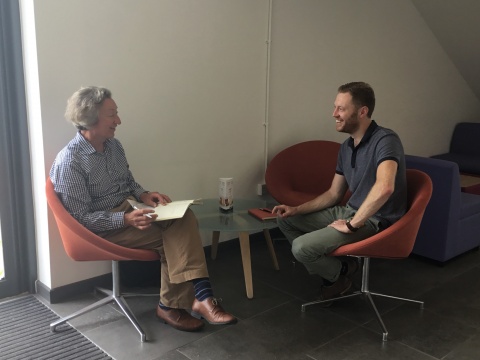 Andy Burroughs, SETsquared sector lead for Health and Wellbeing meets Jason Williams, SeeDATA
On 19th June local SMEs met with members of the SETsquared Scale-Up programme. The inititive which launched earlier this year will unite innovative SMEs with academics enabling them to grow their research and gain strong impact with the support of a partner institution, such as the University of Exeter.
SETsquared clients, SeeDATA based at Exeter Science Park met with Andy Burroughs, Healthcare and Wellbeing Sector Lead. Guests also included Nick Leaney from Aardvark Environmental, Murray Reed, Innovation Manager, Sam Mickleburgh, Expert in Residence and Robert Kathro from the Environmental Futures and Big Data Impact Lab.
Speaking of the Scale-Up Programme Jason Williams, Business Development Director at SeeDATA said: "SETsquared has always provided a fantastic source of information and opened up several new opportunities for SeeDATA. The Scale-Up Programme sounds like it could support us to grow our international collaborations, which is currently a big focus for the company. It was great to meet Andy Burroughs, SETsquared sector lead for Health and Wellbeing to explore how we might best achieve our goals."
The Scale-Up Programme has been developed following a £5m award from HEFCE that will support the most innovative scale-up companies across the South of England.
Designed for companies with 10 or more employees, the scheme is focused on digital innovation, advanced engineering & manufacturing, health & wellbeing and environmental, sustainable & maritime/marine.
The programme will help scaleups to secure funded R&D projects with the SETsquared universities, make introductions to investors, corporates, customers and partners and access talent. They will also be able to access peer-to-peer learning and review of business and growth management.
Find out more about the SETsquared Scale-Up Programme
Mailing List sign-up
Get all the fresh insights first! Stay up-to-date with all the
latest investment news, blogs and all things SETsquared.
Sign-up
Close