SETsquared announces £90m investment raised for start-ups over 12 months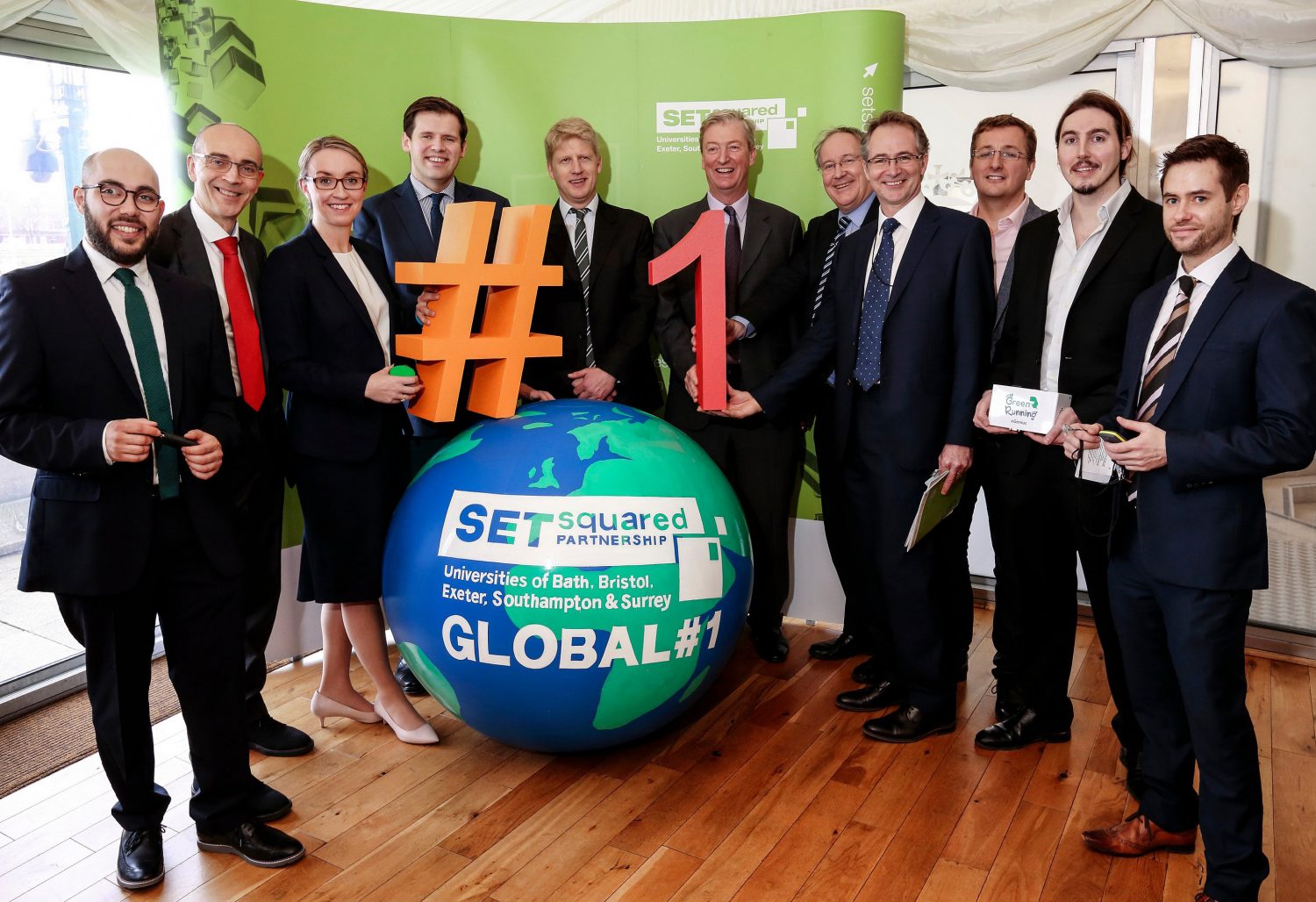 Image (from left to right): Pierluigi Freni, Sherlock; Karl Wills, Pelipod; Dr Olivia Champion, BioSystems Technologies; Ben Howlett, MP for Bath; Jo Johnson MP, Minister of State for Universities and Science; Paul Kane, CDNS.network; Professor Michael Kearney, Vice Chancellor at University of Surrey; Sean Fielding, University of Exeter; Nick Allott, nquiringminds; Peter Davies, Green Running; Leon March, Inova Design Solutions
SETsquared, recently named the global number one university business incubator, has today announced that its member companies raised over £90m of investment in 2015.
SETsquared currently supports some 260 high growth potential technology companies, all of which are developing businesses based on technology innovation in sectors as diverse as cloud computing, cleantech, medtech, next generation mobile and spacetech.
SETsquared announced the record investment news on 4 February at a reception at the House of Commons, attended by the Minister of State for Universities and Science, Jo Johnson MP, Lords and MPs.
Secretary of State for Business, Innovation and Skills, the Rt Hon Sajid Javid MP said: "It's great to hear of SETsquared's vital work and the record level of investment raised by the businesses they support. Business incubators, such as this, play a crucial role in helping start-ups innovate, compete and grow and I remain committed to backing entrepreneurs across the country."
The investment raised by the start-up companies translates into economic growth, and independent research commissioned by SETsquared shows that its companies have created over £3.8bn of value (GVA) in the South of England's economy since 2004. SETsquared's plans for continued growth will see the economic contribution created by its companies rise to £8.6bn over the next 10 years.
Six SETsquared-incubated businesses were selected to exhibit their technologies to guests at the House of Commons event:
Sherlock – which has developed a GPS-based anti-theft device that allows cyclists to precisely locate their bicycle at any moment, as well as send a theft report to police
Green Running – which provides a range of products to help people monitor, analyse and manage energy consumption, enabling users to make savings, lower their carbon footprint and achieve sustainability targets
Pelipod – which has developed an intelligent parcel box that allows the use of unique codes for safe, audited and notified delivery of products and parts for field-based staff and home-based workers
BioSystems Technology – which provides low cost, ethical solutions for researchers who require alternatives to animal testing
Nquiringminds– which builds products, from software to hardware, that make cities better at capturing, securing and using data. It helps cities to run smarter.
Inova Design Solutions– which has created Bodytrak, a miniature wearable device that monitors a suite of health and performance indicators and sends accurate data to users in real-time, via a smartphone, smart watch or internet hub.
Simon Bond, Innovation Director at SETsquared, said: "We were delighted to celebrate SETsquared's ranking at the World's number one university business incubator at the House of Commons today. The event helped everyone attending to appreciate the profound effect that SETsquared's ambitious, innovative, ventures have on our economy and entrepreneurial culture."
"It's important for SETsquared, as the world's leading university business incubator, to show the vital work that's going on to help place the UK at the forefront of innovation and entrepreneurship."
Mailing List sign-up
Get all the fresh insights first! Stay up-to-date with all the
latest investment news, blogs and all things SETsquared.
Sign-up
Close