SETsquared announces ethical bag company as winner of Uni Popshop competition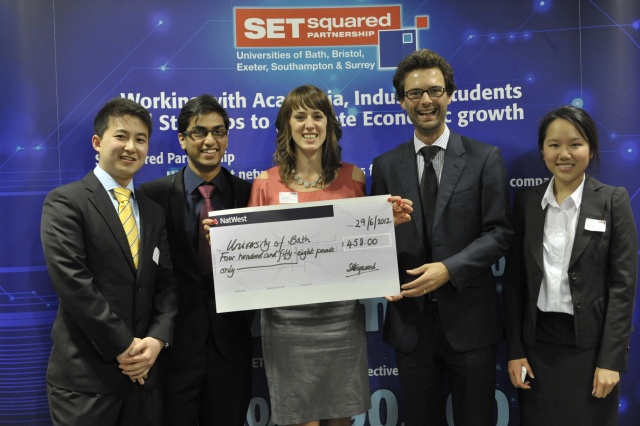 Most profitable team at one-day trading event
SETsquared has announced the winner of its Uni Popshop student entrepreneurship competition. The prize was won by University of Bath team ElephantBranded, which made a profit of £458 at the one-day event.
Tom Pellereau, University of Bath alumnus, inventor and the 2011 winner of BBC's 'The Apprentice', announced the winner at an awards evening on Friday 29th June at the Lloyd's building in London, and said he wished competitions such as this were available when he was a student. The event was part of a year-long programme of activities from SETsquared that helps students improve their business skills, and to turn their bright ideas into profit making companies.
An award for the best digital marketing campaign around the event was won by the University of Surrey team, Azlyn Clothing, with their reversible suit jackets. The prize was sponsored by The Eleven, a youth marketing consultancy, and awarded by their founder, Ben Gateley, and Azlyn will get to spend half a day with the agency.
Held last Thursday, June 28th, Uni Popshop involved student teams competing to see who can make the most profit from a stall in one day's trading at London's Spitalfields Market. SETsquared developed the initiative with the University of Bath organisers, who run an annual student pop-up shop competition.
Teams of six students from across the five SETsquared universities – Bath, Bristol, Exeter, Southampton and Surrey – were each given a £300 start-up loan. They chose which products to sell, including the ethical bags, jazzy dress shirts from Winston Shirtchill and bespoke clothing.
 
"This competition has helped us appreciate the realities of how companies operate and make a profit," said Katie Martin from the winning team ElephantBranded, which sells ethically produced bags. "There's no substitute for getting out there and selling to understand the world of business, especially on a market stall."
"This event has given students invaluable hands-on experience of running a real company, which will help them as entrepreneurs or in whatever profession they choose on graduation," said Graham Harrison, partnership director at SETsquared. "They needed a huge range of skills including team management, product sourcing, marketing, and selling – ElephantBranded demonstrated they had all these abilities and more."
Students taking part were from a wide-cross section of courses. They ranged from first year undergraduates to final year students and postgraduates, from subjects including Mechanical Engineering, Human Biosciences, History and Geography.
This event is one of the many ways SETsquared supports student entrepreneurship. A full year-long programme of activities includes the Kauffman Global Scholars Program, a Deloitte business pitching contest, Xing business planning and a number of enterprise boot camps. 
Mailing List sign-up
Get all the fresh insights first! Stay up-to-date with all the
latest investment news, blogs and all things SETsquared.
Sign-up
Close