SETsquared announces next #Idea2Pitch event, following last year's success in developing tech ideas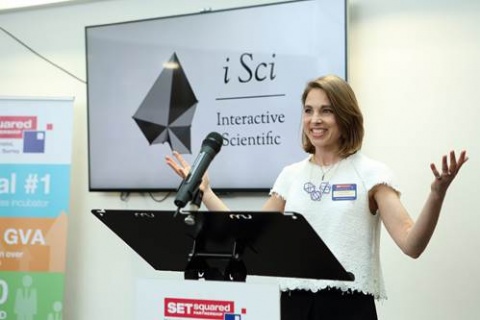 SETsquared member Becky Sage, CEO Interactive Scientific
Do you have an innovative tech business idea? Are you unsure about the next step? Perhaps you have a tech company you would like to scale up? SETsquared can help! Sign up for #Idea2Pitch event hosted by SETsquared Bristol to help shape your ideas, into a pitch for gaining interest or support in your venture.
#Idea2Pitch is a free interactive workshop on what makes a good business idea, and how to pitch it for maximum effect. You will also have an introduction to SETsquared, the Global No.1 university-backed hi-tech incubator. The session is followed by a SETsquared Connect networking event; an opportunity for you to informally meet mentors and experts in residence, as well as the start-up community. A great opportunity to put your pitch into practice!
SETsquared director Monika Radclyffe commented: "Having a business idea is great, but it is said that ideas only account for 1% of the success, so there is much more work to do! We created #Idea2Pitch to help early stage entrepreneurs advance their thinking, and teach how to pitch their ventures to potential customers or investors. The event is a taster of the business support we provide to SETsquared members – accessible to a wider audience through #Idea2pitch."
Tim Sheppard, one of last year's attendees, said: "The pitching practice was the most valuable part of the day – both trying our own and listening to others, and Grev's focus on what we remembered from each was very effective. The evening networking was also excellent – great people, good conversations. It helped for Monika to tell everyone to find us and listen to our trial pitches. I had some willing listeners and lots of people wanted my business card as a result!"
Book to attend via application or contact SETsquared reception for more information.
Mailing List sign-up
Get all the fresh insights first! Stay up-to-date with all the
latest investment news, blogs and all things SETsquared.
Sign-up
Close