SETsquared Bristol announces roll call of companies pitching at Tech-Xpo 2018
The full line up of companies that are pitching at Tech-Xpo 2018 has been announced by SETsquared Bristol. beebooked, Cotham Technologies, Fluence World, Good Sixty, homelync, LettUs Grow, and Metasonics will pitch to an audience of academics, investors, and public sector representatives at the invite-only showcase, with 19 companies also exhibiting to visitors. The annual event will be held at Circomedia in Portland Square, Bristol, on 28th June.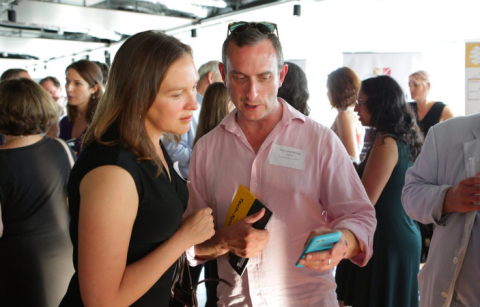 This year's line-up boasts technologies from a diverse range of sectors, including education, food, and app development. Companies pitching at Tech-Xpo have historically gone on to celebrate great success. Interactive Scientific Founder, Becky Sage, who pitched at Tech-Xpo 2016, was selected by Innovate UK as one of the top 15 Women in Innovation in the UK.
beebooked will be pitching for the first time at Tech-Xpo 2018, since launching as a spinout of One Big Circle. Commenting on this, beebooked CEO, Emily Kent, said:
"I'm thrilled to have been selected to pitch at the SETsquared Tech-Xpo this year. My skills marketplace app, beebooked, is in a really exciting development stage and to be able to share its story and growth plans, albeit in less than 60 seconds, is a great opportunity. I know there will be a fully engaged and enthusiastic audience that evening, so the potential for meeting partners to scale with, and possible investors, is very high"
Cotham Technologies' FloPro platform transforms user experience, productivity and workflow. Commenting on their involvement with Tech-Xpo 2018, CEO, Raman Mistry, said:
"Cotham Technologies are delighted to exhibit and look forward to pitch at Tech-Xpo. It's a great privilege to associate with the other leading innovative companies, and the opportunity to meet with a diverse line-up of delegates. We shall be showcasing our FloPro mobile app development platform, recently referenced on the Ovum Decision Matrix for their global report 'Selecting an Enterprise Mobile Application Development Platform 2018-2019'. We are proud to be the only UK HQ Company that was included on the matrix. Our thanks go out to SETsquared Bristol and the IoT Boost programme who have provided great support and environment for our business to grow."
SETsquared Bristol Centre Director, Emma Thorn, said:
"Tech-Xpo is one of our largest events of the year and presents a great opportunity for exhibitors and pitchers to meet potential investors and clients. The fantastic line-up of companies pitching at Tech-Xpo 2018 showcases talent from a range of sectors, representative of the diverse tech scene that Bristol is known for."
As with previous events, Tech-Xpo 2018 will be filmed and launched on YouTube. If you want to stay up to date with the pitches as they take place, and be the first to know who is crowned winner of 'Best Elevator Pitch 2018,' follow SETsquared Bristol on Twitter @SETsquared_Br.
SETsquared Bristol members have celebrated a successful first Quarter in 2018, with over £4 million of funding raised by a number of ventures including BOXARR, who raised £2,100,000 to underpin its global growth plans, and YellowDog, who scored £1.2 million investment to spur business growth in new markets.
For more information on SETsquared Bristol news, opportunities, and events, sign up to receive the monthly newsletter.
Mailing List sign-up
Get all the fresh insights first! Stay up-to-date with all the
latest investment news, blogs and all things SETsquared.
Sign-up
Close