SETsquared Bristol announces second Internet of Things Boost call
Announcement of second cohort for National IoT Boost programme for Bristol & Bath
Global high tech incubator, SETsquared Bristol working in partnership with HBB
Kairo, one IoT Boost's first cohort companies, won the Best Elevator Pitch at Tech-Xpo 2017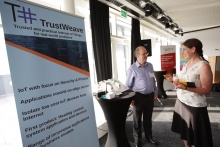 SETsquared Bristol in partnership with High Tech Bristol & Bath CIC (HBB) has announced the second call for its Internet of Things (IoT) Boost project. The global high tech incubator is looking for five IoT start-ups to join the national programme (IoTUK) to help them to bring their product or service to market.  Applicants have until 19th February 2018 to apply with the successful entrants being announced a month later on 19th March 2018.
The first year cohort (Cohort 1) comprised of 10 new businesses: Zoetrope, LettUsGrow, Sure Chill, Cotham Technologies, LemonPeel Controls, Studio Meineck, IoLT, TrustWeave. LuJam and HellyHolly have notched up considerable success. HellyHolly's Kairo, the virtual assistant for working families, won the title prize of 'Best Elevator Pitch' at 2017 Tech-Xpo, whilst collectively the cohort generated £76k in investment, reached £160k in revenue, created 15 jobs and 11 partnerships. Current members have the opportunity to reapply this year if they wish.
Commenting on the announcement, Emma Thorn, Centre Director for SETsquared Bristol said:
"We are delighted to launch IoT Boost 2 off the back of a very successful inaugural IoT project. Once again, as part of the national programme, we are offering prospective IoT start-ups across the Bristol and Bath area, our incubation services, to help them bring their product or service to market or to accelerate their growth. I urge anyone who is interested or feels they may be suitable for the Boost programme, to apply. We are really excited by what our new cohort may bring."
As well as receiving 12-month virtual membership at SETsquared Bristol, the IoT Boost programme will provide coaching, mentoring and advisor-in-residence clinics to its members. Each entrepreneur will have access to investor readiness training, workshops and business review panels, and the opportunity to use SETsquared Bristol's extensive business network.
John Bradford, CEO, HBB, which is partnering SETsquared Bristol on the IoT Boost programme, added: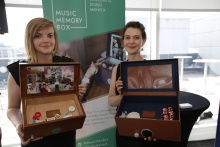 "The IoT programme has been quite transformational for the current members. The Boost framework and SETsquared Bristol incubation has meant they have been able to commercialise their business quickly. Bristol and Bath is such a hotbed of tech entrepreneurial talent, we are confident that we will easily fill this year's cohort."
SETsquared Bristol will be hosting a celebration event in Autumn 2018 with IoTUK to showcase the new Cohort 2 companies. Furthermore, the incubator intends to grow the community of entrepreneurs exploring IoT technologies with around 10 meet-up or similar events throughout the year.  Interested, prospective start-ups can apply from now directly at the HBB website: https://hbb.org.uk/iotuk-boost-2/
Mailing List sign-up
Get all the fresh insights first! Stay up-to-date with all the
latest investment news, blogs and all things SETsquared.
Sign-up
Close