SETsquared Bristol business incubator wins national award for outstanding contribution

Nick Sturge receives award from trade body UKBI 
The director of the Bristol SETsquared Centre, Nick Sturge, has received the 2012 "Outstanding Contribution to Business Incubation" award at the UKBI Conference in Lincoln. UKBI is the national trade body for business incubators.
This builds on the previous award, achieved by the Bristol SETsquared Centre in 2008, for "Best Established Business Incubator."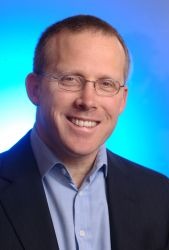 The Bristol SETsquared centre, part of the SETsquared Partnership, accelerates high-tech, high-growth start-up and early stage businesses, including those originating from both inside and outside the University of Bristol.
On receiving the award, Sturge commented: "Bristol is a thriving city for high-tech businesses and we are proud to be doing our bit to help grow new businesses and create high-value jobs."
Chairman of UKBI, David Rowe, said: "Certain individuals stand out and UKBI has had the privilege of working with and learning from Nick for many years. Since 2006 he has led a business incubation environment in the South West of England from strength to strength, and has led the regional network of practitioners to become the largest of its kind in the UK. He is entrepreneurial and innovative in his approach and is a pillar of the business incubation and business growth community in the UK."
The Bristol SETsquared Centre currently supports nearly 60 businesses, which between them employ over 500 people and turn over £21 million per annum. Of the businesses supported since 2007, none have failed.
As well as the Bristol centre, there are similar thriving incubators in the SETsquared Partnership in Bath, Exeter, Southampton and Surrey, supporting a total of over 250 technlogy businesses and making a significant contributor to the growth of their local economies.
Mailing List sign-up
Get all the fresh insights first! Stay up-to-date with all the
latest investment news, blogs and all things SETsquared.
Sign-up
Close