SETsquared Bristol Celebrates its Most Successful Year to Date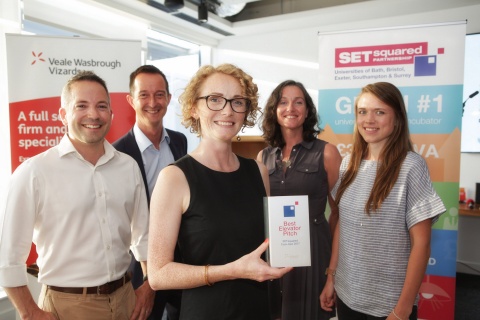 SETsquared Bristol members collectively raised over £130m in 2017
The global incubator also began to close the gender gap with almost 20% female founders
2017 also saw two major new partnerships with Oracle and UK Digital Catapult
SETsquared Bristol has just recorded its most successful year to date in 2017. The world-class incubator has over 80 active members who collectively raised over £130m in funding, an increase of £90m in funding on the previous year. What's more, it created 1,300 new jobs in the region, and pushed new boundaries in gender and tech diversity.
Several SETsquared Bristol members secured funding for continued and accelerated growth. Graphcore, who are becoming world leaders in AI and Machine Learning, raised $80m and Xmos obtained $15m investment to accelerate their work in voice and audio interface technology. University of Bristol spinout Zeetta Networks have grown commercially raising a total of £4m in funding last year, moved into new offices, and recently graduated to exclusive SETsquared Bristol Alumni status.
Aside from funding success, attitudes to gender diversity in tech have been at the fore over the past year. The high tech incubator now has 11 female founders and over 25% female employees, an example all members are encouraged to emulate in 2018. SETsquared Bristol has further championed gender diversity working with the Female Founders Forum, delivering Women's Tech Hub interviews, engaging more female advisors, and reviewing and improving resources to support women in the sector.
But gender isn't the only diversity focus. A new SETsquared Bristol funded research project coming this year will delve deeper into understanding ethnic diversity across the tech sector. Sector diversity is another strong point for the incubator, with members spanning 37 industry types, from aerospace to agriculture.
Other highlights include SETsquared Bristol's partnership with Oracle, who chose Bristol as the location of their first UK Start-Up Cloud Accelerator, with the second cohort to be recruited in early 2018 – a great success for the region's tech ecosystem. SETsquared Bristol was also selected by UK Digital Catapult to deliver the IoT Boost programme. Kairo, one of the IoT Boost supported companies, won the Best Elevator Pitch award at the SETsquared Tech-Xpo showcase in June.
Lisa Matthews, CEO of HellyHolly, which developed Kairo said:
"The SETsquared community and the wider Bristol start-up ecosystem is a constant source of motivation and inspiration for us, and Tech-Xpo is a great demonstration of the thriving and supportive scene we've got here in Bristol. We're excited for Kairo's future as part of it."
The SETsquared Bristol team has also expanded with the arrival IoT Entrepreneur in Residence, Pete Keevil and Community Manager, Paul Forster.
Commenting on their successful year, SETsquared Bristol's Centre Director Emma Thorn said:
"2017 was a tremendous year for our incubator as we notched up many notable successes directly and with our ventures. However, we are not idle and we are already using these successes to build on as we have big goals for the year ahead. As SETsquared Bristol membership grows, so will business support levels, and we hope that investors, founders, mentors, and panellist pools will continue to diversify. We'll also be enabling and encouraging peer-to-peer and alumni engagement as SETsquared Bristol continues to evolve its world-class incubator offer."
For more information about SETsquared Bristol or to join its membership, please visit localhost/setsquared-live. To keep up-to-date with SETsquared Bristol news, subscribe to the monthly newsletter here
Mailing List sign-up
Get all the fresh insights first! Stay up-to-date with all the
latest investment news, blogs and all things SETsquared.
Sign-up
Close