SETsquared companies pitch up a storm at Global Corporate Venturing Symposium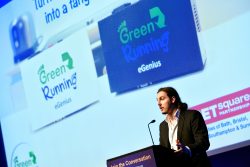 Peter Davies from Green Running pitches at the Global Corporate Venturing Symposium
Fourteen of SETsquared's most exciting start up technology companies took part in this year's Global Corporate Venturing (GVC) Symposium (24-25 May 2016).
The SETsquared enterprises pitched their work to more than 400 corporate venturing business leaders and investors at the prestigious event in London at the end of May.
Simon Bond, innovation director at SETsquared, said: "The annual GCV Symposium is the leading event for global corporate venturing professionals and SETsquared was delighted to put forward such brilliant talent and ideas from across the Partnership. It was a joy to be able to bring another round of exciting, high-growth potential technology companies to London to pitch for investment and demonstrate what makes their businesses stand out. Chances like these are invaluable for start-ups and it could result in having their technology picked up and adapted by a prominent business."
Peter Claydon from ContinuumBridge, one of the pitching companies said: "Thank you for running the SETsquared pitching event at the Global Corporate Venturing Forum today. The timing was excellent for ContinuumBridge, as we are on the cusp of seeking some funding, and the event certainly exceeded our expectations and we got far more leads than we had expected."
The companies that took part were:
AccurIC Ltd
AccurIC has developed a technology in LED lighting offering better quality, greater efficiency and longer life.
ContinuumBridge Ltd
ContinuumBridge has developed a technology platform for managing, monitoring and controlling remote devices, enabling businesses and organisations to create new revenue streams, streamline processes and personalise service delivery.
Custodian Solutions
Custodian Solutions works internationally with large enterprises, intelligence and technology specialists to protect brands from counterfeiting.
Dashboard Ltd
Dashboard has created a solution for the oil and gas industry that uses continuous real-time monitoring and harnesses innovations in electronics manufacturing, communications and enterprise cloud technologies.
Dynamon
Dyanamon has developed an analytical software service that saves money for the road transport and logistics industry through predicting fuel savings and ROI.
Green Running
Green Running provides a range of products to help monitor, analyse and manage energy consumption.
iGeolise
iGeolise makes maps and data searchable by travel time, rather than distance.
Living Map
Living Map is a next-generation bespoke mapping platform that helps cities and venues monetise their data.
NquiringMinds
NquiringMinds develops data analytics and secure IoT solutions for smart cities and industrial IoT markets, specialising in security.
Space Products and Innovation (SPIn)
SPIn is developing a Multipurpose Adapter Generic Interface Connector which will support the space industry to increase profits during satellite manufacturing as well as help it to meet satellite over-demand.
TomogTech Ltd
TomogTech has developed a rapid and automatic pipeline scanning solution for the oil and energy industry, that uses a tomographic imaging method to non-invasively visualise the thickness of pipe walls.
Trimunocor
Trimunocor has developed a protein that can be artificially produced cheaply and in large amounts that is essential in preventing inflammation in the lung.
Utonomy
Utonomy has developed an innovative technology to create autonomous networks that address the problem of shrinkage in gas distribution networks.
XIM Ltd
XIM has created its patented Lifelight technology that can predict a heart attack up to 24 hours before it occurs, without the need for wearable devices or expensive specialist equipment.
Mailing List sign-up
Get all the fresh insights first! Stay up-to-date with all the
latest investment news, blogs and all things SETsquared.
Sign-up
Close