SETsquared companies wow Barclays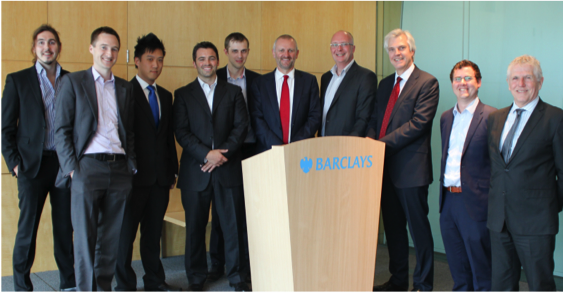 Innovative start-ups from the SETsquared partnership had a unique opportunity to pitch their technologies to one of the world's leading banking institutions, Barclays, this month (July).
Six companies from across SETsquared's incubator programme were selected to showcase their innovative business propositions to a large group of senior business and technology directors at Barclays' global headquarters at Canary Wharf in London.
The opportunity is part of SETsquared's Open Innovation programme, which aims to help corporate organisations access new technologies, solutions and innovations by brokering relationships with SETsquared's start-up companies, researchers, innovators and entrepreneurs.
It is a mutually beneficial partnership, with the corporates finding new technologies and products and the start-ups getting the chance to pitch to business giants they'd never usually be able to access.
SETsquared and Barclays worked closely together to identify Barclays' interests. The joint team then identified and selected a wide range of innovative companies across the SETsquared incubator programme that appealed to the bank. Through a series of rigorous reviews and presentations six candidates companies were selected to present at a prestigious event at Canary Wharf.
The event was a huge success with each company stimulating significant interest and opening the doors to further discussion about their products and services. Each company has received feedback from a 35 strong panel of representatives from Barclays, including Corporate Banking, Digital and Mobile services, Wealth Management and group technology
Simon Bond, Innovation Director at SETsquared, said: "In the past there have been barriers to this kind of collaborative innovation, both on the side of the corporate and the start-up.
"Previously there hasn't been a platform for corporates to go to where they can find enough solid, relevant start-ups in one place. It made for a laborious and risky process, with no guarantee of finding the right technologies at the end. Similarly, start-ups find it almost impossible to engage with the right people in major corporate organisations. Our Open Innovation programme, which was launched with support from the Intellectual Property Office, is now able to address this."
"We have been really impressed with the commitment Barclays has made at the most senior levels to reaching out to our innovators and start ups. This is an example of how the right corporate values can be key to exploiting the benefits of UK innovation for the whole of the British economy."
Adrian Cottington, Director in Global Technology and Infrastructure Services at Barclays agrees: "The Open Innovation programme, with SETsquared acting as the intermediary, has given us the opportunity to access to a pool of cherry-picked talent, all in one place. We've been very impressed with the quality of technology companies that SETsquared have presented to us and are looking forward to talking further with the companies."
Image above shows: Delegates at the event, including SETsquared's Innovation Director Simon Bond and Adrian Cottington, Director of Technology Infrastructure and Services at Barclays.
Mailing List sign-up
Get all the fresh insights first! Stay up-to-date with all the
latest investment news, blogs and all things SETsquared.
Sign-up
Close